The Sri Lankan Sevens rugby outfit kicked off the Asian Sevens Series 2016 first leg at the Hong Kong Football Club grounds in Causeway Bay yesterday with victories over Taipei and Malaysia but went down to hosts Hong Kong. Sri Lanka will now meet China in the Cup semifinal encounter (Sri Lankan time 10.42 a.m.) today.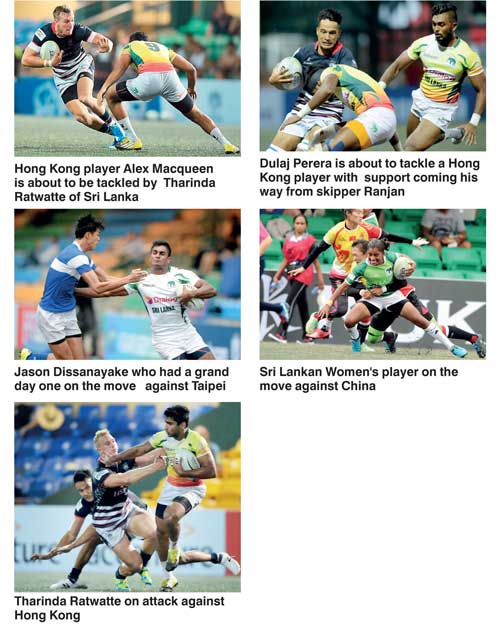 As expected, Sri Lanka had things their way on a wet day under difficult ball handling conditions, scoring 7 tries in their opener against Taipei which was a one-sided affair. Jason Dissanayake hat-trick floored the Taipei outfit. Sri Lanka was well supported by debutant Tharinda Ratwatte (2) and a try each from skipper Dhanushka Ranjan and Kavindu Perera. Jason Dissanayake and Dulaj Perera converted two tries each. Though Sri Lanka led comfortably 24 to nothing at the short breather, Taipei hit back with two back to back tries soon after the short breather. Jason Dissanayake and Kevin Dixon stood out for the Sri Lankan outfit with some excellent running rugby, foxing the Taipei outfit and finding gaping holes in their defense.

Sri Lanka played Malaysia in their second outing, going ahead in the very first minute of the game through a loose ball collected by Tharinda Ratwatte scoring under the posts. Sri Lanka looked a yard faster and fitter than the Malaysian outfit playing sans any Fijians in their outfit. Kevin Dixon's try took Sri Lanka to a 14 to nothing lead, shortly before the short breather. Malaysians who played well in the last two minutes before the short breather scored two quick tries to equalise at 14 a-piece at half time. After the turn around, tries by Hirantha Perera, Kevin Dixon, Saliya Handapangoda and Jason Dissnayake were too much and too late for the Malaysians who came back with only one try in the latter half. Dulaj Perera converted 5 of the 6 tries. Dhanushka Ranjan, Kevin Dixon, Jason Dissanayake and Hirantha Perera played their hearts out.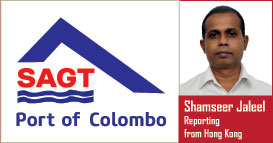 In the third and last group match of the day which saw heavy rain pouring down during the second half of the game, Hong Kong beat Sri Lanka with a 4 try blitz. Danushka Dyan was injured in this game and his participation in today's semifinal encounter looks doubtful. Hong Kong who led 10 to nothing at the short breather saw Sri Lanka improve in their defense in this game.

China created the major upset on day 1 in the men's game when they edged out the Asian Giants Japan 12/10 in a thriller where the Japanese fielded a second string outfit as their best team is preparing for the World Series. Later in the day, China edged out South Korea 19/17 and secured a semi final berth with Sri Lanka. Japan was pushed down to participate in the Plate semi finals today.

Meanwhile, the Sri Lankan women's outfit beat Uzbekistan and lost to Thailand and China. They will meet Guam in the Plate semi finals (8.52 a.m Sri Lankan time) today.

Speaking to Daily FT, Sri Lanka Skipper Danushka Ranjan said "We came here with some young blood as our seniors were injured and they lived up to good standards. We played well in our first two games and improved in our defense against a physical Hong Kong. We will be meeting China in the semi finals and want to progress from there. My first goal was to make it to the top four and now want to move forward from there to the Cup finals. I am hoping that Dayan's injury is not too serious and I want him to play in the Chinese game. "

Results Day 1

Men's

China beat Japan 12/10, South Korea beat Singapore 46/0, Hong Kong beat Malaysia 36/0, Sri Lanka beat Taipei 43/12, Japan beat Singapore 45/0, China beat South Korea 19/17, Hong Kong beat Taipei 47/0, Sri Lanka beat Malaysia 40/21, China beat Singapore 29/0, South Korea beat Japan, Hong Kong beat Sri Lanka 22/0, Malaysia beat Taipei

Women's

China beat Uzbekistan 59/0, Thailand beat Sri Lanka 14/7, Japan beat Singapore 45/0, Hong Kong beat Guam 29/0, China beat Sri Lanka 37/0, Thailand beat Uzbekistan 44/0, Japan beat Guam 39/0, Hong Kong beat Singapore 7/0, Sri Lanka beat Uzbekistan 39/0, China beat Thailand 26/7, Singapore beat Guam 29/7, Japan beat Hong Kong 28/0.

Semi Final line-up for day 2

Men's

Cup

Hong Kong vs South Korea, Sri Lanka vs China

Plate

Singapore vs Malaysia, Japan vs, Taipei

Women's

Cup

Japan vs Thailand, Hong Kong vs China

Plate

Sri Lanka vs Guam, Uzbekistan vs Singapore