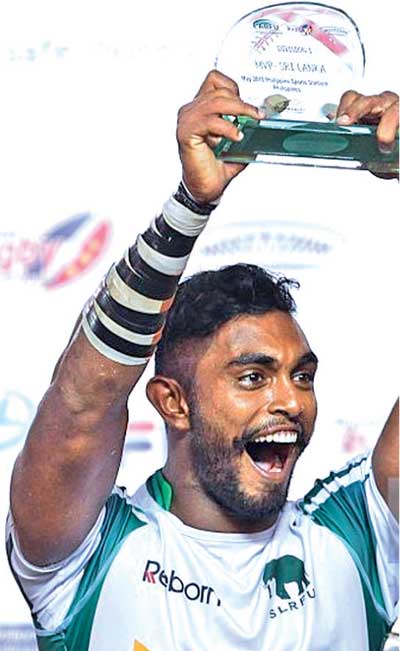 By Shamseer Jaleel

The Sri Lanka International Rugby Sevens is an annual international Rugby Sevens tournament held in Sri Lanka since the late nineties. The tournament was originally developed as the Singer Sri Lankan Airlines Rugby Sevens which was founded in 1999 in order to mark Kandy Sports Club's presence for 125 years in the Central Province. For 10 years (1999 to 2008), the tournament was hosted by the Kandy Sports Club and held in Kandy (Nittawela and Bogambara Stadium) while the national men's teams from Asia and Europe were regular competitors.

In 2009, the Sri Lanka Rugby Football Union (SLRFU) conducted the event in a different format similar to the Indian Premier League Cricket. This was the first time a rugby tournament was conducted and teams were managed and owned by the top corporate in Sri Lanka.

This added glamour to the tournament and world renowned seven's rugby players such as Wasisale Serevi (Fijian), Ben Gollings (England), D. J. Fobes (New Zealand), William Rider (Fijian), Collins Injera (Kenyan), Tim Nickelson (New Zealand) , Carlin Isles (USA), Charles Piutau (New Zealand), Waisake Naholo (New Zealand), Amasio Valence (New Zealand) and Osea Kolinisau (Fijian) all top class names in sevens rugby around the globe participated in these tournaments.

This year, around 120 Sri Lankan rugby players will get an opportunity to play and train with world class seven's players.

This has helped improve their individual and team standards when they perform at the Asian Rugby Sevens annually. SLRFU this year too is planning to conduct the Sri Lanka Super Sevens Tournament in the same format as in the past.

Eight franchise owned teams have confirmed their participation. The first leg will take place on 5 and 6 August while the second leg will be held on 12 and 13 August, both at the Race Course International Rugby Stadium. Sri Lanka Rugby Football Union (SLRFU) laid down the bidding rule allowing each franchise team to pick only two players from the national sevens squad. Players were divided into three categories, "A" were auctioned between Rs. 500,000-Rs. 750,000, "B" between Rs. 300,000-Rs. 500,000 and "C" from Rs. 150,000-Rs. 300,000. Further bidding for the international players will take place later this week.

Furthermore, another three extra local players will be allowed to be in the squad for each of the eight teams locking horns in the tournament.
Sri Lanka Super Seven's Powered by Dialog
Access Kings

Danush Dayan

Anuradha Herath

Chula Susantha

Pium Jayasinghe

Hashan Maduranga

Janitha Chanka

Lochana Girihagame

Thilina Bandara

Banuka Gamage

Walkers CML Vipers

Danushka Ranjan

Hirantha Perera

Banuka Nanayakkara

Shro Fernando

Thinina Weerasinge

Mekalanka Promodya

Randitha Warnapura

Vimuthi Rahual

Shemal Weerasekara

Etisalat Panthers

Kanchana Ramanayake

Vishvamithra Jayasinghe

Mohamed Absal

Niroshan Fernando

Ashan De costa

Pradeep Liyanage

Riza Mubarak

Kushan Silva

Kavin Dickson

Sri Lanka Telecom Mobitel Eagles

Dulaj Perera

Mithun Hapugoda

Lee Keegal

Sashan Mohamed

Suranga Pushpakumara

Sithum Peiris

Tsarina Ratwatte

Prince Chamara

Senal Deelaka

Softlogic Warriors

Jason Dissanayake

Rohan Theyagaraja

Saliya Handapangoda

Oshan Perera

Arshad Jamaldeen

Chimera Dab are

Dylan Zoysa

Rohitha Rajapaksa

Ashwantha Herath

Cargills Gladiators

Richard Dharmapala

Dinusha Chathuranga

Buwenaka Udangamuwa

Thilina Wijesinghe

Thusitha Samarathilake

Ganindu Lakshan

Nadeesha Seneviratne

Bedim Piyarathana

Niwanka Prasad