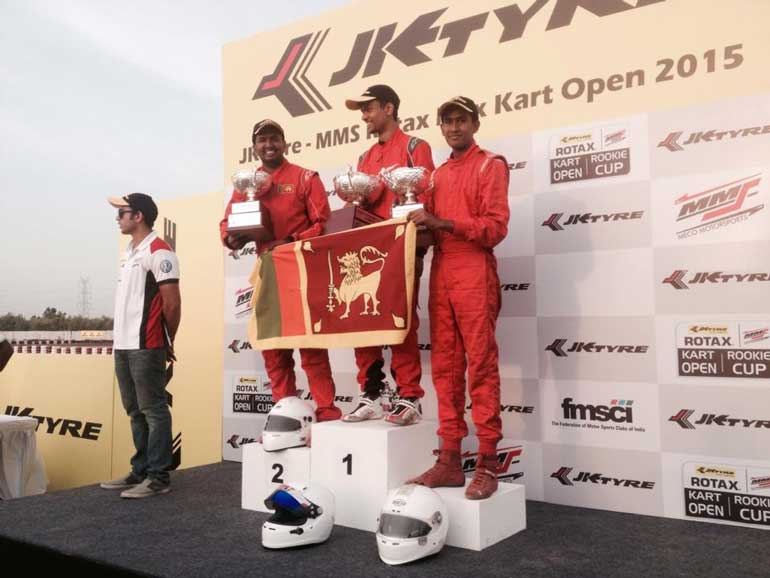 Senior Rookie Class Overall winners: 2nd place – Charith Gunawardana (Sri Lankan), 1st Place – Mohomad Zain Ali (Indian), 3rd Place – Brayan Perera (Sri Lankan)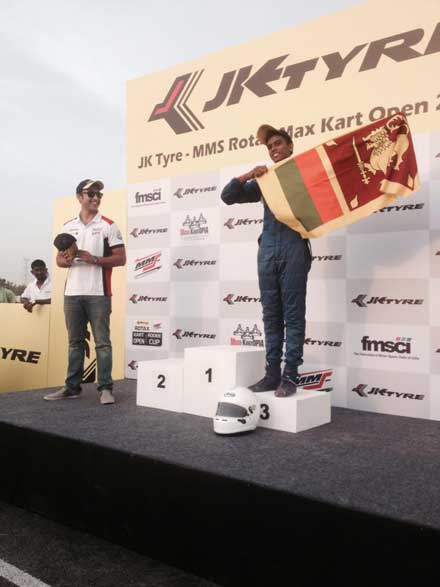 Junior Rookie Class Overall 3rd Place winner – Kevin Perera with the Sri Lankan National flag on the podium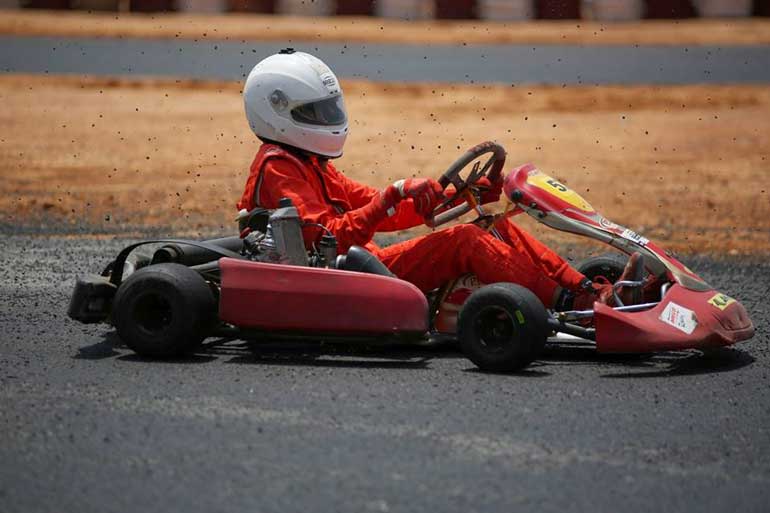 Sri Lankan driver Brayan Perera in action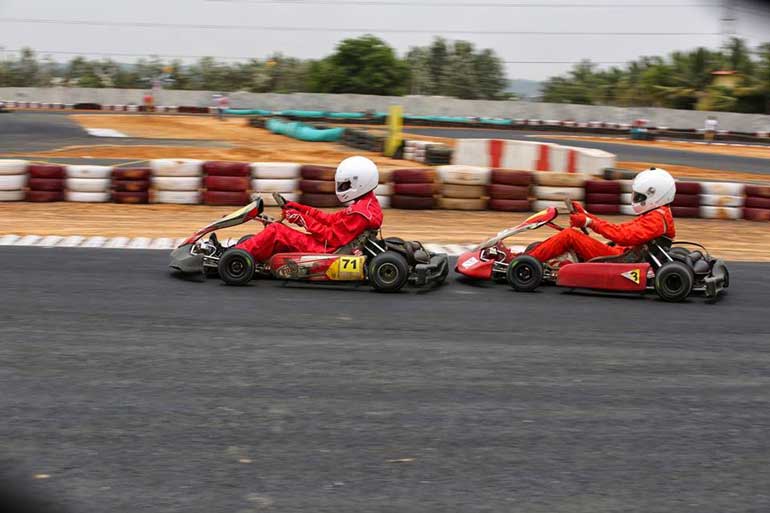 Charith Gunawardana and Brayan Perera bumper to bumper intense racing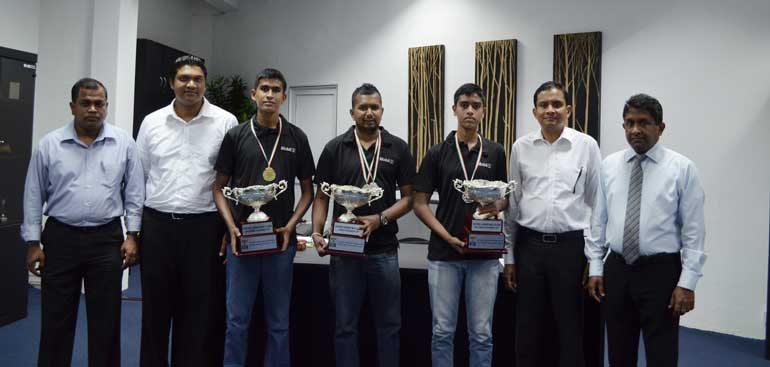 From left: Single Seater MSA Secretary Jaliya Jayasekara, Sri Lankan team manager Kalum Piyasena, Brayan Perera, Charith Gunawardana, Kevin Perera), Asian Motor Racing Club President Dinesh Jayawardana and Single Seater MSA President Shehan De Tissera
The three local drivers, Charith Gunawardana (27) and the Perera brothers, Brayan (16) and Kevin (15) brought glory to Sri Lanka by clinching podium finishes at the recently-concluded JK Tyres Max Rotax Rookie Cup Round 1 and Round 2 in Bangalore, India.

Round 1 of the championship was held on 23 May and Round 2 was held on 24 May. Each round consisted of four races where the top three drivers from each class were awarded on a points basis.

Charith Gunawardana and Brayan Perera finished with Podiums in the Senior Rookie Class whilst Kevin Perera finished with Podiums in the Junior Rookie Class


Charith Gunawardana managed to secure a podium in Round 1 ending 1st Runner up in Senior Class. Brayan Perera unfortunately had DNFs due to two accidents in two races which made him miss the podium opportunity.

During Round 2 all three drivers came back with experience and lessons learned from Round 1, where Kevin Perera put up a splendid performance in his Junior Class with 17 drivers ending 1st Runner up in Round 2 and Brayan Perera put up four 1st places finished in Senior Class which put him on the top of the podium and Charith Gunawardana clinching 2nd place in Round 2.

In Overall championship, Kevin Perera finished 3rd in the podium and Charith Gunawardana and Brayan Perera took overall 2nd place and 3rd place respectively.


These three drivers competed very senior Indian drivers such as Ricky Donison, Amey Bafna, Dhruv Mohite, Nayan Chaterjee, Aarosh Ravindra, Akash Gowda and Mira Erda.


In an endeavour to foster, promote and develop local senior go-kart drivers, the Asian Motor Racing Club (AMRC) in collaboration with the Single Seater Formula Motor Sports Association took the initiative in sending these budding racing drivers to Bangalore, thereby giving them the exposure to international level racing.


Great encouragement was given to the three participants from the sponsors, McLarens Lubricants Ltd., sole distributor for Mobil Lubricants in Sri Lanka. A spokesman for the sponsors said that the company was delighted and considered it an honour to have had the opportunity to sponsor the three participants from Sri Lanka.


The team comprised: Kevin Perera (15) – Junior Class; Brayan Perera (16) – Senior Class; Charith Gunawardana (17) – Senior Class; Kalum Piyasena – Team Manager.