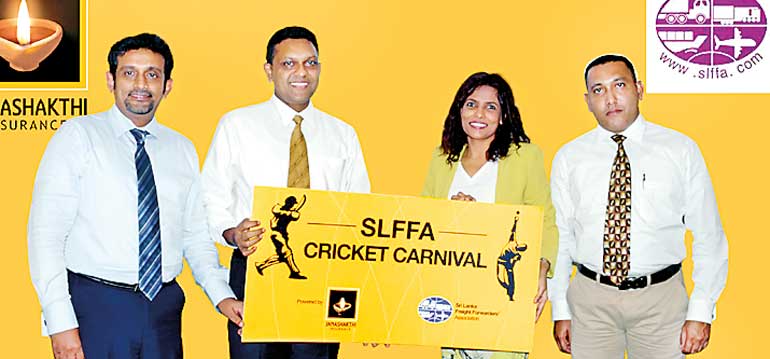 Jude Fernando , CEO -Janashakthi General Insurance Limited handing over the Sponsorship to Ms. Tania Polonnowita Wettimuny , Chairperson- Sri Lanka Logistics & Freight Forwarders Association . Others from left are Suresh Basnayake , Deputy General Manager - National Sales , Janashakthi General Insurance Limited and Shavindra Dias , Head of the Organizing Committee - SLFFA Cricket Six-A-Side tournament 2015.
The Sri Lanka Logistics & Freight Forwarders' Association (SLFFA) was established in 1981 with the objective of bringing all freight forwarders under one umbrella, and with a view of institutionalising and professionalising the trade. Today the Government, relevant Government agencies and the trade have recognised the SLFFA as the Apex body representing the freight forwarders in Sri Lanka.

SLFFA currently has 110 leading freight forwarding companies in its membership. SLFFA is a member of the regional freight forwarding body The Federation of Asia Pacific Air cargo Associations (FAPAA) and the International Freight Forwarding body FIATA.

The Association has been working towards maximising the benefits to the freight forwarding industry by exploiting to the maximum the potential of Sri Lanka's strategic geographical location. It has identified the need for greater investment for the development of air and sea freight facilities, infrastructure and in the development of human resources to sustain the fruition of Sri Lanka becoming the hub port in the region. The Association is also mindful of the developments taking place in the international freight forwarding arena and tries to keep the Sri Lankan Freight Forwarding industry abreast with the rest of the world.

Following the popularity and success of its initial Six-A-Side Cricket Carnival held in 2009/2010, and the follow up in 2011 and 2013, the Sri Lanka Logistics & Freight Forwarders' Association has once again scheduled a softball six-a side cricket tournament for Saturday, 24 October, at the Colts Cricket grounds, Colombo. The SLFFA Cricket Carnival is expected to draw a crowd of approximately 1,000 participants, guests and spectators, whilst those in attendance would include the top officials such as Chairmen, Managing Directors, Directors and CEOs of leading logistics and freight forwarding companies in Sri Lanka. 48 teams, comprising of member companies, have enthusiastically registered to take part in this event.

The carnival atmosphere at the grounds is ideal for the whole family as there will be a kid's corner, food stalls and a live band with Papare along with popular musicians to entertain all in attendance. As always, the Association has also organised various prizes and surprises for all.

The Main Sponsor for this event is Janashakthi Insurance PLC while the Co-Sponsors are Mobitel. Generous sponsorships have also been contributed by airlines, shipping lines and SLFFA member organisations.