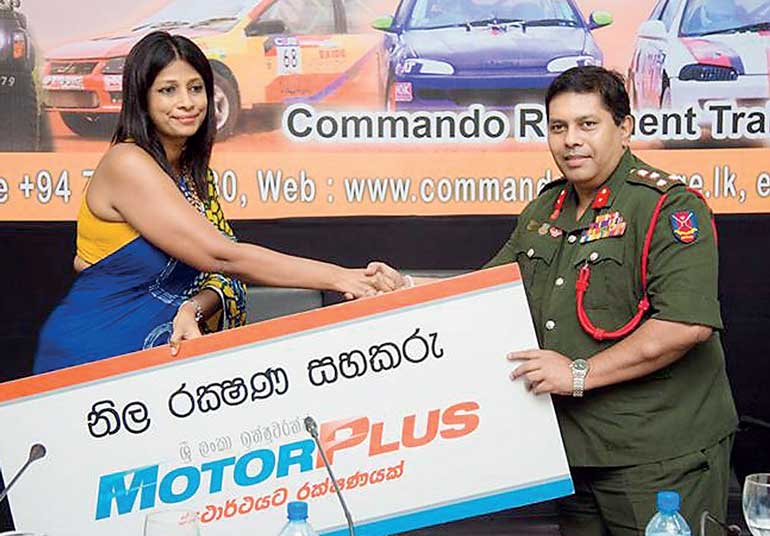 Deputy General Manager – Marketing of Sri Lanka Insurance Niroshini Pethiyagoda hands over the sponsorship cheque to Col. Commandant of Commando Regiment Brig. Ralph Nugera.
Sri Lanka Insurance Motor Plus has stepped forward as the exclusive insurance partner and sponsor of the Commando Challenge Supercross motor racing event, which will take place in October.

The exciting event, which will be conducted under the theme 'Ride with the Commandos', has been organised by the Commando Regiment of the Sri Lanka Army along with the Sri Lanka Association of Racing Drivers and Riders (SLARDAR).

Organised under a unique format for the first time, it will be carried out in two phases. The first phase will comprise a three-day rally and expedition commencing on 3 October, which is expected to be more of a fun and leisure event. The expedition will cover over 560 km, winding its way across four provinces – Western, Central, Eastern and Uva - covering varying geographies and climates.

The second phase will be carried out on 9 October and will comprise a Supercross racing challenge for motorcycles and cars. This will be held at the 1.68 km racetrack of the Commando Regiment Training School at Uva Kuda Oya, which is believed to be the longest and fastest racing track in the island and has been developed to international standards. The Supercross will comprise over 12 motorcar and 10 motorcycle encounters and will see the participation of over 100 drivers and riders.

Sri Lanka Insurance Motor Plus has always been at the forefront when it comes to assisting motor racing events. As the premier motor insurance provider, its involvement in such events has given the events as well as the participants a major boost.

One of the most comprehensive motor insurance solutions in the market, Sri Lanka Insurance Motor Plus offers a range of benefits to policyholders such as island-wide coverage, 24-hour service, flexibility in selecting an insurance plan of choice, collision repair services through partner vehicle agents, third party claim settlements without any hassle and a dedicated and proactive customer care team.

A variety of vehicles comprising both private and commercial vehicles are covered under the Motor Plus policy.