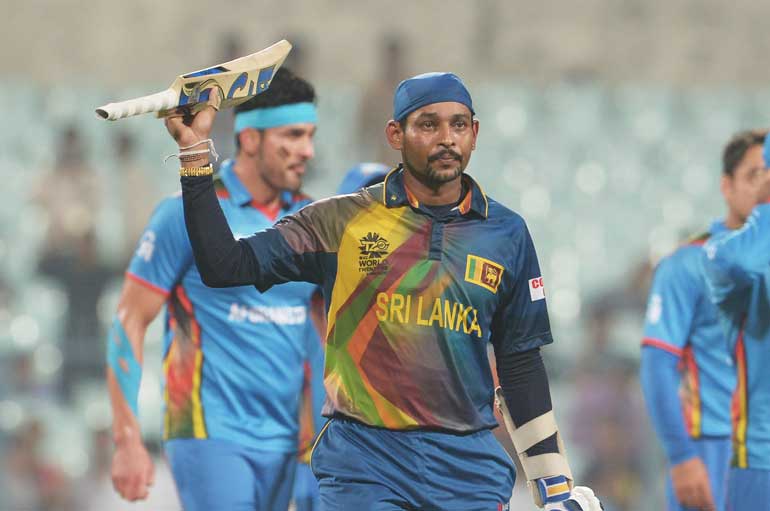 ESPNCricinfo: Many men, it is said, get to a certain age, and through some realisation of their own mortality, are taken over by a desire to relive their youth. They buy sports cars, get trendy tattoos, date younger women, and take up sky jumping. They are the gossip fodder of work functions. They are the school sports meet's embarrassing uncles. The smell of their aftershave precedes them; there is a trail of cringes in their wake.

The oldest man in the Super 10s, Tillakaratne Dilshan has arrived at the World T20 with hair the colour of flame. Now, we should not be too quick to judge. There is a chance it represents something - like how his brain must have been on fire when he chose to dye his hair bright red.

Dilshan has come to India at the age of 39, and become the World T20s' embarrassing uncle. He is the forerunner of tournament cringes. He is aftershave in human form. But this is no sudden development. This is not flavour of the month. Dilshan's whole career has been mid-life crisis. But if you're a Sri Lanka fan, and Dilshan bats and fields as he did against Afghanistan, long may the aftershave linger. May the crisis never bloody end.

Look at him plant that front foot across his body, and make that rapid swing. The bat comes through perfectly perpendicular to the lines in his goatee. Is he shaving himself with a pitchfork? Was there ever a time when people thought his beard looked good? Has that shot always been this ugly? As it sends the ball to the boundary boards on a regular basis, has anyone ever cared?

Watch him as he cracks a whiplash pull off the opposition's quickest bowler. Ricky Ponting was forced to leave that shot collecting dust on the shelf in the twilight of his career, but Ricky Ponting didn't have a chestful of gold pendants and a stud in his ear. And what twilight for Dilshan? That word only applies to him insofar as he seems like an ageless being, but without the sparkly skin and wimpy romance storyline.

Asked if he might retire after this World Cup, he almost seemed taken aback at the question. "You see, if I am batting like this - if I'm playing like this - I don't think any retirement at the moment," Dilshan said after the match. Then his words sped away from him like a mid-life-crisis Ferrari. "I want to play anyone. I am still really enjoying my cricket. I want to play anyone. I haven't decided anything on my retirement. I'm trying to play maximum I can give to my country."

If he were still scoring runs and taking catches, why shouldn't Dilshan play on into his 40s? With some younger Sri Lanka players seemingly maturing at the pace of a tortoise that has been run over some time ago, Dilshan may have no choice but to play even longer. If anything, he will be even less fearful with the dilscoop if his teeth have already been replaced by dentures.

Even now, Dilshan remains the best Sri Lanka fielder. Two years ago that statement was an appreciation of Dilshan's drive, and the rate at which he tears and hares around. Now, it's more a reflection on the rate the rest of his team drives fans to tear their hair out.

Angelo Mathews parried a catch up into the air in the 17th over, and instead of trying to regroup and snatch the ball on second attempt, he ducked for cover. Lahiru Thirimanne seemed to have caught the ball at deep midwicket, until it leapt out of his hands like a frog, and landed over the boundary. In the final over, Dushmantha Chameera tracked a high ball, tacked this way and that, and ran in circles until he got dizzy. Then he fell over and the ball went to ground. Here, at least, the cringes are not Dilshan's doing. The crisis is his team-mates' fielding, which has been verging on atrocious for a good year-and-a-half.

"When there are fielding training days, I work especially with the fielding coaches," Dilshan said. "I like to do as much as I can. I would love for every ball to come to me. I am on the field and I can't wait for the ball to come to me. I still field at cover point. If there is a run out, or a good catch to take, I want to do that. I don't think about my age."

Dilshan's has been one of cricket's most emphatic late bloomers, tied down in the middle order so long, until at his elevation at the age of 32, the runs streamed lavishly out of him. Sri Lanka desperately need more of the shots as zany as his hair over the next three weeks. They need more of the diving stops. May Dilshan play innings that roar like the engine of his sports car until the day finally comes when he can no longer remember where he parked it.