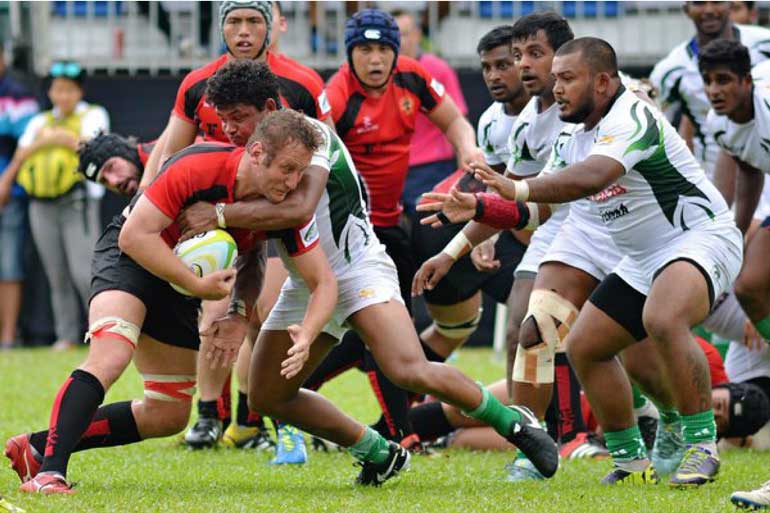 By Shmazeer Jaleel

Sri Lanka rugby outfit led by Sudharshan Muthuthanthri ended in number 2 position behind Malaysia at the recently concluded Asian Rugby Championship Division I in Kuala Lumpur, Malaysia last week-end. Now Malaysia being the ARC Division I champions will play either Hong Kong or South Korea (3rd placed team) in a home and away encounter to determine the 2017 top three in Asia.

Sri Lanka took wing to Malaysia minus 6 of their senior players in the squad. They were former skipper, Fazil Marija, Srinarth Sooriyabandara, Shehan Pathirana, Nigel Ratwatte, Vishwamithra Jasinghe, Anurudha Wilvara and Gayan Weeraratne. This made the national selectors choose the best from the rest which Michael Jayasekera and company as national selection committee did as their job. With his previous solid records former Kandy SC head Coach Johan Taylor was entrusted with the coaching job. A few thought preparations went only for two weeks and another few rugby stalwarts thought underestimating their opponents was the failure on tour, not to end on top. Whatever the reason may be Sri Lanka on tour beat Singapore 33/17 after a brave second half rally and then went down to Malaysia 42/17. A few were crying that Malaysia fielded more than 10 expats (Fijians) for this game and wanted to lodge a complaint once the team managements report. But we need to dig deep and see on what criteria we played Jason Dunne and Emori in our sevens outfit some time back. In the last outing Sri Lanka coming from behind, defeated Philippines 25/21 in to end on number 2. Malaysia (11) secured the championship followed by Sri Lanka (9), Philippines (7) and Singapore (4) ended the tournament. For Sri Lanka, Reza Mubarak had an excellent tour scoring 30 points in the three games with 6 penalty kicks and equal numbers for try conversions. While Jason Dissnayake scored three tries, Kavindu Perera was a star on debut and stood out for the Sri Lankan outfit.

It's very difficult to understand why Sri Lanka at this level fails to reach the top three in Asia after having a solid School tournament format. Even at Junior level Sri Lanka most of the time ends on number 2 to Hong Kong and fails to qualify any further for the Junior World Rugby at Under 20 level. Even the club level encounters are well structured though dominated by 2 clubs quality players of a squad of 30 is a possible task for the governing body Sri Lanka Rugby Football Union (SLRFU). However the SLRFU committee also needs time after a dormant period of one year to be more organised when it comes to national rugby assignments.

According to reliable source SLRFU is to appoint a high performance coach along with an overseas trainer on a full time basis. With the Olympic Qualifier sevens in Monte Carlo barely one month away to be followed by Asian Sevens in Hong Kong and South Korea preference will be given to sevens over fifteens. Two likely candidates for this vital High performance Coaching role are the Navy SC Head Coach and former Sri Lanka sevens player, Nilfer Ibrahim and former Kandy SC player, Sri Lanka sevens and fifteens player and fomrer CR & FC Head Coach Imthisam Marrikar.