Sri Lanka Cricket has announced that former off spinner Muttiah Muralitharan, who becomes the first Sri Lankan to be voted into the ICC Hall of Fame, will be formally inducted during the ICC Champions Trophy in June.

"It gives us an immense sense of pride that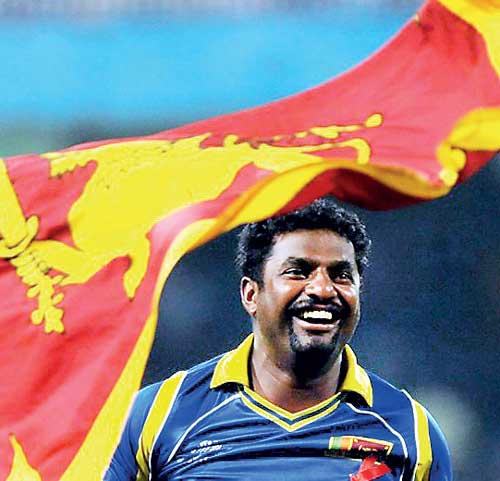 Murali is receiving this highest honour. We are proud of him and the glory he has brought to Cricket in Sri Lanka. His illustrious career demonstrates that he belongs to this highly prestigious group," said Sri Lanka Cricket CEO Ashley de Silva

The CEO, elaborating on the induction, noted that Muralitharan was offered the choice of being inducted during the Bangladesh tour of Sri Lanka, the India tour or the ICC Champions Trophy and he opted for the Champions Trophy, which is to be held in England and Wales in June this year. Accordingly, he will be inducted during Sri Lanka's second match, which is against India at the Oval.

Muralitharan will be joined by former Australia captain Karen Rolton, Arthur Morris of Don Bradman's 'Invincibles' and George Lohmann, the 19th century fast bowler who took 100 wickets in just 16 Tests.

They will be presented with commemorative caps honouring their contribution to the game, with family members representing Lohmann and Morris at the presentations.

ICC Chief Executive David Richardson congratulated the four, saying: "The ICC Cricket Hall of Fame recognises some of the truly great players from cricket's long and illustrious history, and this year's inductees thoroughly deserve to be in this highly prestigious group.

"Muralitharan has been one of the greats of the modern era. His guile and consistency over the years helped Sri Lanka develop as a very competitive side in both Test and ODI cricket."

Muralitharan, whose last international fixture came at the World Cup finals in 2011, finished his career with 800 wickets in Tests, 534 in ODIs and 13 wickets in 12 T20Is.

He was also a big part of Sri Lanka's ODI successes from 1993-2011 and was a member of the squads that won the World Cup in 1996 and shared the 2002 ICC Champions Trophy with India.