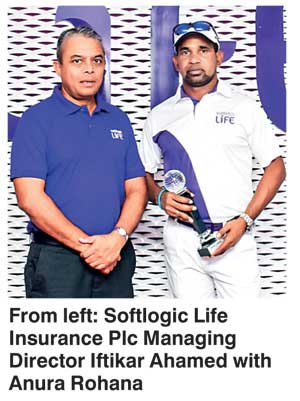 Sri Lanka's leading life insurance provider Softlogic Life Insurance Plc has come forward to sponsor professional golfer Anura Rohana for the 2017 season.

The move has brought immediate success to Rohana, a seasoned Sri Lankan golfer and silver medalist at the 2002 Seoul Asian Games, who clinched a major title by winning the coveted Pune Open Golf Championship 2017.

The Pune Open Golf Championship, held at the Poona Club Golf Course, is considered to be one of the most significant events on the Professional Golf Tour of India (PGTI) annual calendar.

Rohana, lying tied in seventh and three off the lead after the penultimate round, scored a perfect round of 65 (six under par) to come from behind and win by a clear two strokes, overhauling Khalin Joshi and Angad Cheema, who shared second place at the event. He closed the tournament with a total of 10-under-274. On the final day, Rohana was able to surpass round three leader Mukesh Kumar after notching a final birdie on the 18th, thus winning the championship and moving up from eighth to fourth in the PGTI Order of Merit. This was Rohana's second PGTI Win since winning the BLIT Open at the Delhi Golf Club in 2014.

Commenting on his win and the sponsorship from Softlogic Life, Rohana said: "Softlogic Life coming forward to sponsor me has been great and is a turning point in my golf career. It has been a long gap for me since my last win back in 2014. I have had top five finishes at the last two events on the PGTI and I am delighted to win at the Poona Club Golf Course – a special venue for me as I qualified for the Indian tour for the first time in 2002 after playing at the same venue."

Softlogic Life Insurance Plc is a subsidiary of Softlogic Capital Plc and is part of the Softlogic Group, which is recognised as one of Sri Lanka's most diversified and fastest-growing conglomerates, with interests in healthcare, retail, ICT, leisure, automobiles and financial services. Significant stakeholders in the company also include FMO and DEG, who are rated 'AAA' Development Financial Institutions from the Netherlands and Germany respectively.