Janashakthi General Insurance Ltd. won the 'Hema Wijeratne' Challenge Trophy 2015, the Inter-Insurance Company Six-a-side cricket tournament organised by the Sri Lanka Insurance Institute (SLII), held at the NCC Grounds, Colombo 07 recently. Amana Takaful PLC became runners-up for the second consecutive year. MBSL Insurance Company was adjudged the best cheering squad and Ceylinco General Insurance won the best decorated tent title.

Chief Guest Senaratne Insurance Brokers Ltd. Chairman and SLII past President Nihal Senaratne gave away the awards together with SLII President Thusitha Nandasiri, SLII immediate past President Sanjiv Keerthiratne and Insurance Association immediate past President Prakash Schaffter.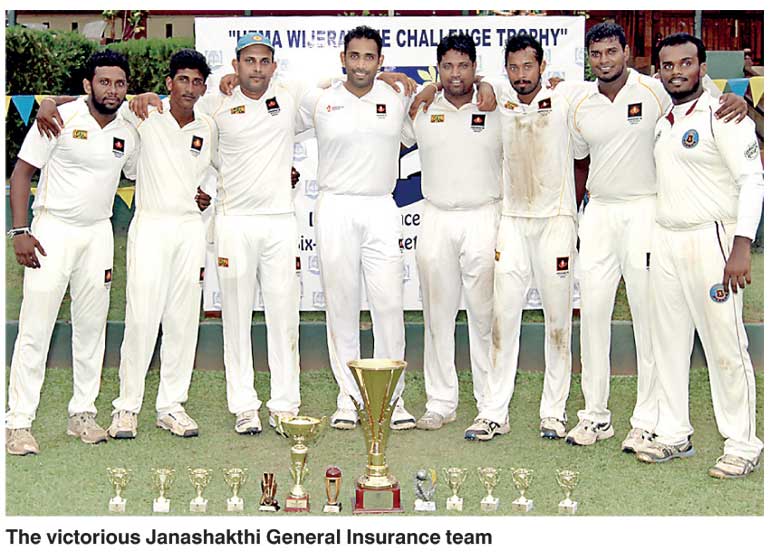 Organised as part of the SLII's vision to create a social forum for its members, this year's event was a great success with the active involvement of senior representatives from the industry. 14 teams including a joint team from the Sri Lanka Insurance Brokers' Association took part in the tournament. True to the spirit of sportsmanship, teams were seen fraternising and forging bonds with one another despite being rivals in the business world.

Established in 1981, the Sri Lanka Insurance Institute (SLII) is the education arm of the insurance industry. Whilst focusing on enhancing insurance education which is the prime aim of the Institute, SLII also organises many events to strengthen friendship and fellowship amongst members of the industry.