ESPNcricinfo: Sri Lanka Cricket will not host a provincial first-class competition in the 2016-17 season despite repeated promises it would. Instead, the board has scheduled a provincial List A tournament in April, reasoning it was more important to play limited-overs cricket ahead of the Champions Trophy, which will be held in England and Wales between 1 and 18 June.

This is the second successive year in which plans for a multi-day provincial tournament - which is separate from the first-class Premier League - have been scrapped. When Thilanga Sumathipala took over as board president in early 2016, the incumbent administrators cancelled plans for a zonal tournament set down by the preceding board, citing concerns over its proposed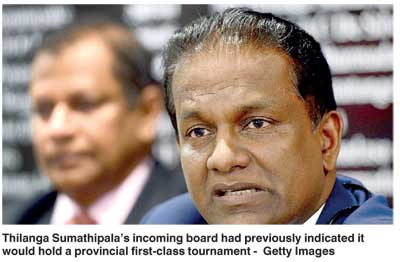 "composition and structure".

In the aftermath of the cancellation, SLC publicly reiterated that it would organise a better provincial tournament than the one that had been planned. The vice-president Mohan de Silva said: "the elected body has always recognised the need to have a higher level of competition above club cricket." However, in spite of the board's continued reiterations about hosting a first-class provincial tournament in the 2016-17 season, only the List A tournament has been formally scheduled for this year.

"We're talking about the ICC Champions Trophy. So, there's no point playing four-day games," vice-president K. Mathivanan said. "About 60 players - including those from the national side - will be in action. It will be a preparation for the Champions Trophy."

Though the word "provincial" is attached to this List A tournament, it is likely the teams will be composed of the best of Sri Lanka's domestic cricketers, with little correlation between where the player hails from and in which team he plays. In essence, it will be a more competitive version of the ongoing District One-day Tournament, in which mostly Colombo-based clubs have been assigned a district name: Nondescripts Cricket Club is, effectively, playing as Matara, Sinhalese Sports Club is playing as Kandy, Tamil Union is playing as Jaffna, and so on.

Mathivanan said the first round of the provincial List A matches will be played in Colombo Club's venues "like NCC, SSC and Tamil Union", before the action moves to international grounds further afield. Day-night games are scheduled to be played in Dambulla and Pallekele, as well as Khettarama, he added.

The tournament, scheduled to begin on April 6, is expected to feature four teams, who will play each other twice, before the top two progress to the final on April 29. There will be, however, a 10-day gap in the middle, during the Sinhala-Tamil New Year period.

Sri Lanka's club-based first-class competition - the Premier League Tournament - was completed earlier this year. That features 23 teams: 14 in the top tier and nine in the second. Provincial tournaments represent a much more competitive level of play.