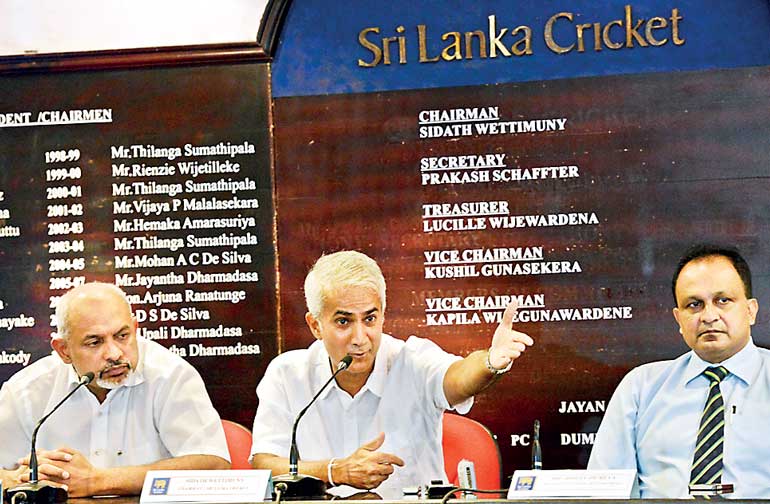 Sri Lanka Cricket Chairman Sidath Wettimuny (second from left) addressing the media. From left: Sri Lanka Cricket Secretary Prakash Schaffter and Sri Lanka Cricket Chief Executive Officer Ashley De Silva - Pic by Daminda Harsha Perera
By Madushka Balasuriya

Sri Lanka Cricket (SLC) yesterday clarified and addressed several talking points which had arisen following a recent International Cricket Council decision calling for elections before the next meeting of the global body in October.

Speaking at a media briefing SLC Interim Chairman Wettimuny said the ICC would "ideally" like it to be held before October but that in subsequent conversations they had agreed to the elections being held on 26 January at the latest, noting that if it was held at any point beyond that period "then there will be further action."

As to what that further action might be, Wettimuny said they could include "an inquiry or even suspensions" but added that their goal must be to hold the election as soon as they could.

Wettimuny also played down the relative furore surrounding Sri Lanka's recent demotion to observer status by the ICC.

"When you say observer you don't just remain silent for the meeting, that is not what they mean by 'observer status'. We participate like anybody else; I can voice my opinion and take part in discussions," noted Wettimuny before ramming home the point by showing a photograph of himself seated with the full member nations of the ICC at the recent ICC Annual Conference in Barbados, West Indies.

SLC Secretary Prakash Schaffter, addressing the briefing, went a step further. "We do not agree that there is even provision for an observer status as far as the ICC is concerned. There is no such thing as 'observer status' in the ICC constitution. However in the larger interest of the game and SLC, and so as to maintain cordial relations, we decided to attend," said Schaffter, before going on to admonish the ICC for the manner in which they brought up the issue of 'observer status', when they failed to include it in the agenda for their first meeting following the appointment of an Interim Committee by SLC and only brought it up at the meeting.

"It's like inviting someone to your house, but when he walks in saying 'sorry we're not giving you a chair'," pointed out Schaffter.

Questions were also raised with regard to India's tour of Sri Lanka in early August and its potential clash with the country's general elections on 17 August.

"We are currently having internal discussions on how the elections will impact it and whether we will need to shift around a match by a day or two. It's something the Indians I'm sure will understand. It's a minor matter," assured Schaffter.