George Patrick Sisira Kumara stamped his authority as a leading Sri Lankan amateur golfer, sealing victory in the Pin Fernando Grand Prix 2017 June edition, maintaining his lead from the first round of the four-round event.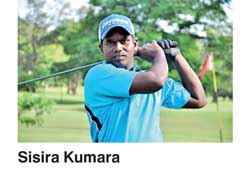 Sisira Kumara, the Runner-Up in the 129th Sri Lanka Amateur National Golf Championship played in October 2016, entered the CAT Solar Powered Pin Fernando Grand Prix Monthly Winners' Enclosure with a first time win in the 2017 PFGP Series.

Sisira Kumara played consistent golf through the four rounds to conclude the 72 hole event, 3 under par, 5 strokes clear of the Runner up, veteran N. Amarapadma who finished on 286, 2 over par. Young Chalitha Pushpika held on for 3rd place from another seasoned veteran J.M.D. Indika who returned the best score of 68, 3 under par in the Final Round even though he missed out on 3rd place by just one stroke.

Pin Fernando Grand Prix overall leader B.A. Sanjeewa was not up to scratch in the June edition and finished in 5th place, but has probably done enough to maintain his lead at the top of the overall Grand Prix standings as at June 2017.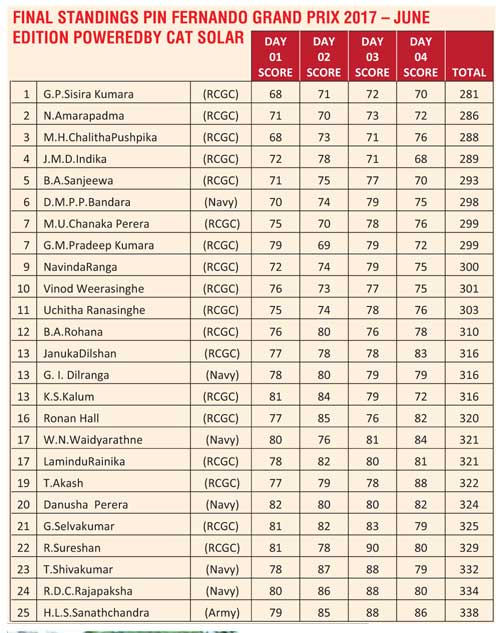 Rising young star Vinod Weerasinghe, a student of British School, won the Best Juniors Prize with an overall finish in 10th place in the PFGP June edition. Vinod was 15 strokes ahead of the 2nd placed Junior Januka Dilshan who produced patches of brilliance shooting an albatross on the Par 5, 7th Hole and an eagle on the 14th Hole, both in the same round, on day one.

The Ladies Prize for the June edition of the PFGP went to Anouk Chitty with a consistent 02 round total of 170 gross.

CAT Solar sponsored Pin Fernando Grand Prix 2017 rolls on with exposure, experience and practice for Sri Lankan amateur hopefuls whose journey continues long after each Grand Prix round. The Sri Lankan team of B.A. Sanjeewa and N. Amarapadma take wing to participate in the Pakistan National Golf Championship on 3 July, whilst two juniors who excelled in the recently-concluded Junior Match Play Championship also travel to Vietnam for a Junior event.

The Sri Lanka Open 2017 is scheduled for 22-25 August at the Nuwara Eliya Golf Club and the most prestigious 130th Sri Lanka National Amateur Golf Championship with international participation gets underway from 13 to 19 October, also at the Nuwara Eliya Golf Club Course.