Maria Sharapova, winner of five grand slam events, has pulled out of the US Open tennis championships due to a leg injury, the Russian said on Sunday.

Sharapova, 28, has not played a match since losing to Serena Williams in the Wimbledon semi-finals in July and withdrew from hardcourt tournaments in Toronto and Cincinnati in August, citing a right leg strain." Unfortunately, I will not be able to compete in this year's US Open," she tweeted.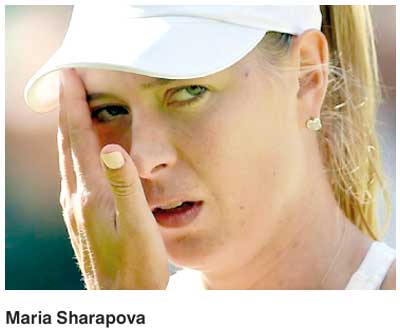 "I have done everything possible to be ready but it was just not enough time. To all my amazing fans, I will be back in the Asian swing in a few weeks and look forward to finishing the year healthy and strong."

It marks the second time in three years that the 2006 champion has withdrawn from the year's last grand slam event.

Her absence robs the US Open of some star power and a possible marquee showdown.

Sharapova, who has won each of the four grand slam tournaments during her career, was seeded to meet top-seeded American world number one Serena Williams in the semi-finals.

The 33-year-old Williams is campaigning to win a fourth US Open title in a row that would give her a rare grand slam sweep of the year's four majors.

The Russian, however, has not proven much of an obstacle to the big-serving Williams, who has beaten Sharapova in 18 of their 20 career meetings and has not lost to her in 11 years.

The US Tennis Association said on Sunday that Russian Daria Kasatkina is the lucky loser who will replace Sharapova in the main draw.