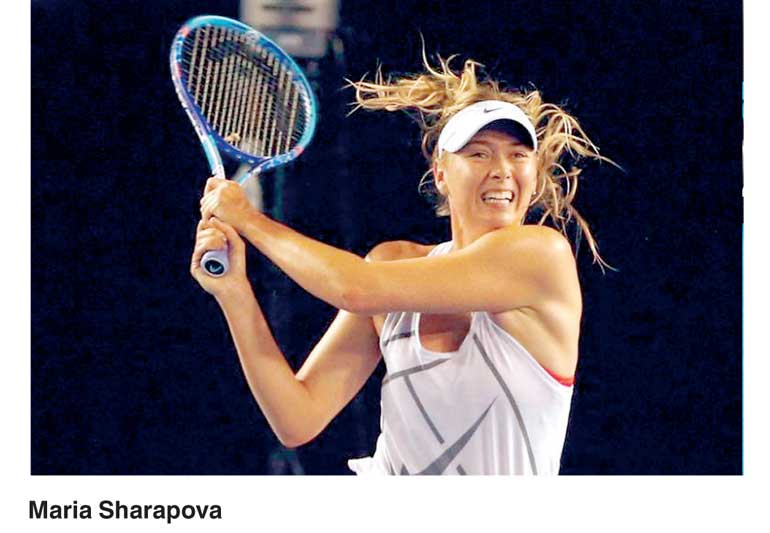 AFP: Maria Sharapova said Wednesday she refused to feel sorry for herself during her doping ban, occupying her time by studying at Harvard, writing a book and even learning how to box.

The former world number one and five-time Grand Slam title winner told a Russian chat show that she particularly enjoyed lacing up a pair of boxing gloves as part of her fitness regime.

"I tried boxing as I needed to keep myself in good form. It was great as I could imagine some particular people whom I wanted to hit," said the 29-year-old, without elaborating on the identity of her imagined targets.

Sharapova was banned from the sport after testing positive for meldonium at the 2016 Australian Open.

However, she will return to action at the Stuttgart claycourt tournament on 26 April after her initial two-year ban was cut to 15 months.

Her reappearance in the sport will come seven days after her 30th birthday.

"I found out that I'm very good in resting," added Sharapova when she was asked what lessons she had learned during her enforced absence from the tour and which has left her without a world ranking.

"Formerly I couldn't imagine what to do during such a huge period of free time. I had almost 12 months to think, to read books, etc."

She added: "I also had a vacation in Croatia, I celebrated the New Year in Hawaii. I've never been in London as a tourist before. I've seen almost nothing there while playing at Wimbledon."

Sharapova, who studied at Harvard Business School to help expand her candy business, added she had written a book about her life.

"I wrote a book which will be out in September. First it will be issued in English and then translated into Russian."

Earlier on Wednesday Sharapova said it was too early to discuss the possibility of her participation in 2020 Olympics at Tokyo.

"Now I'm focused on my comeback," the London Olympics silver medalist and 2008 Fed Cup winner told Russia's TASS news agency, saying it was "still unclear" if she would play in Tokyo.

"I would really love to play (in the Tokyo Games). It was hard to watch people competing at (Rio) Olympics, while I was unable to play there," she added.