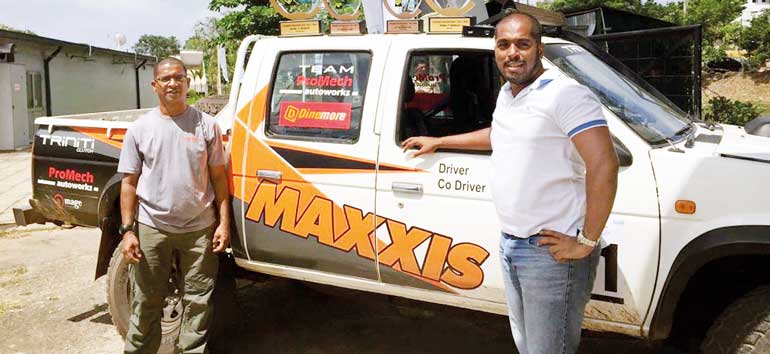 Championships leaders Akhry Ameer (Co-Driver/Left) and Shafraz Junaid (Driver/Right) pose with the trophies and the Maxxis sponsored competition vehicle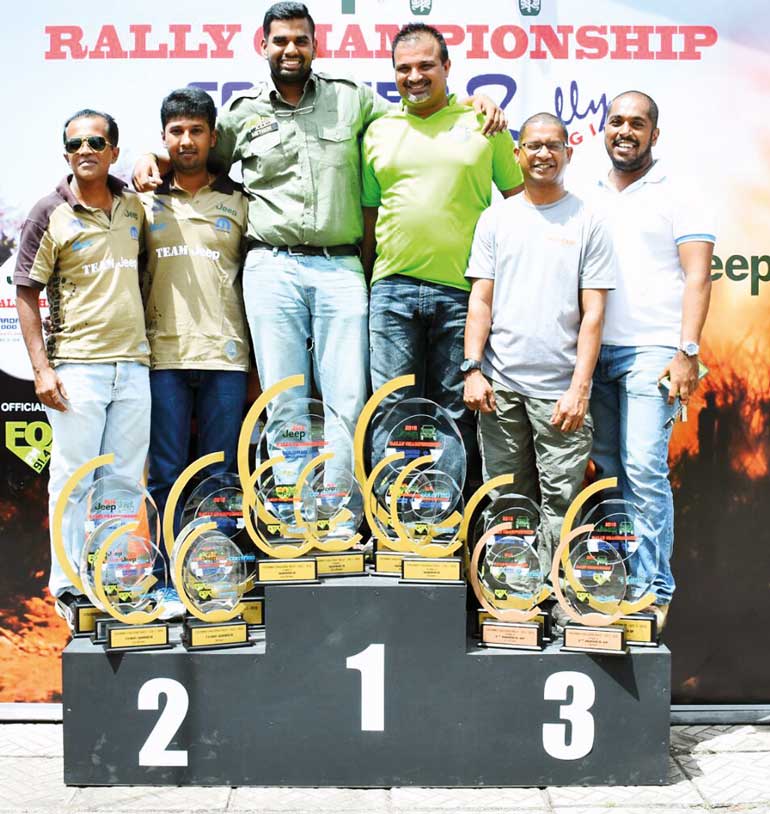 From left: Nalin Premaratne, Sarinda Gamage, S.K.Methunsanka, Sam Chandrasoma, Akhry Ameer and Shafraz Junaid
Rally veterans Shafraz Junaid and his co-driver Akhry Ameer stamped their lead in the SLARDAR-CMSC TSD Rally Championships being placed second-runners up at the Jeep Colombo Challenge Rally 2016 concluded at the Speedrome, Pelawatte yesterday.

The duo who were runners-up of Jeep Wrangler SLARDAR 1000 Rally, the first round of the championships held earlier during the year were edged out in a tightly contested 400km route by the winning duo of Sam Chandrasoma / S.K. Methunsanka who drove with zero debit points. Driver Nalin Premaratne and co-driver Sarindu Gamage finished in second place with six debit points ahead of Shafraz's 11 debit points.

The Jeep Colombo Challenge Rally organised jointly by the Sri Lanka Association of Racing Drivers and Riders and the Colombo Motor Sports Club saw a field of 24 cars and jeeps with DIMO as sponsors of the event. The competitors proceeded from Pelawatte to Galle and back in two stages according to Time-Speed-Duration (TSD) instructions by the organizers. Any deviation of early or lateness accrues debit points making the competitor with the least debit points the winner.

Starting out as the first competitor Shafraz Junaid encountered some road traffic at the initial stages having to settle for nine debit points in the first stage and two debit points in the second stage totaling 11 debit points as part of his run.

The two Jeep teams with a total of 30 debit points and 50 debit points respectively won the winner and runner-up team awards.

Shafraz Junaid and his long-standing co-driver Akhry Ameer also introduced the new livery of their competition vehicle with Maxxis Tyres providing the much needed grip on the road. Maxxis also recently asserted their entry into motor sports as sponsor of Shafraz Junaid and the event sponsor in the recently concluded international style speed rally, Rally Sri Lanka.

The duo will now look forward to a competitive finish at the final round and second leg of the Colombo Challenge Rally to be held before the end of the year.