ESPNCricinfo: The first day of the season at The Oval was given a grandstand beginning as one of game's leading stars gave Surrey the perfect home start. Kumar Sangakkara, still glistening as bright as ever, produced a mesmeric sixth Championship hundred - his 56th in all first class cricket - to leave Somerset smarting having conceded 394 in a day's play.

As it happens, both teams read the pitch well. What green there was only spanned the middle of the track, from good length to good length and those within the Surrey camp hoped Somerset might be lured into bowling first. Chris Rogers did not bite and asked for the coin, but failed to call correctly. That was the starter pistol for a run-fest on a chilly day in south London.

The breath of each exposed spectator and player was visible as scenes resembled something out of The Revenant. The only difference might have been that after a few hours, Somerset's fielders would have welcomed a bear's forced embrace. Instead, they were mauled by Sangakkara.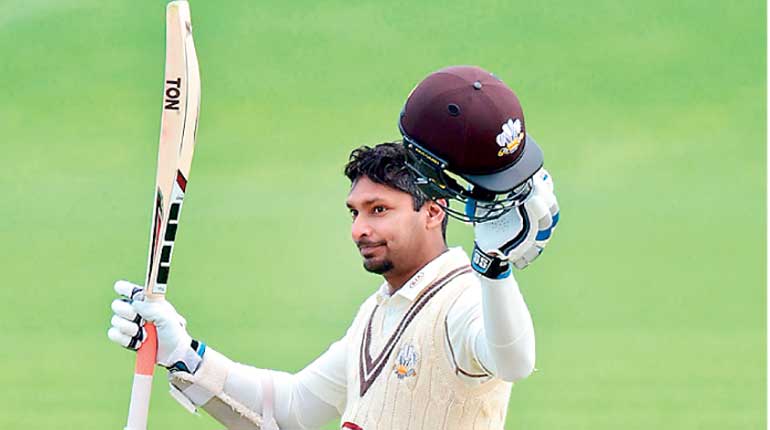 Kumar Sangakkara passed 1000 runs for Surrey during his innings of 171 - Getty Images


The familiar jaunt to three figures took just 94 balls and saw him pass 1000 first class runs for Surrey in this, his 22nd innings. To say he had it his own way would be an understatement.

Craig Overton, in his first start of the season, was particularly charitable to the 38-year-old, feeding the cuts and drives. Even the pull shot was given a decent run out as Overton tried to find something in the pitch that wasn't there. His generosity and that of the rest of the attack, towards Sangakkara might only have been bettered had they offered to pick up his dry cleaning and wash his car.

It is worth noting that Overton did find Sangakkara's edge, only for the ball to die on its way through to Peter Trego at first slip, who had to dive to gather. Trego himself also missed out on Sangakkara's wicket when, on 34, he was pulled to Roelof van der Merwe at midwicket. A difficult low chance was not taken.

Otherwise, Sangakkara was unfazed. He strolled down the wicket to hit Trego for six over midwicket and lashed Tim Groenewald through cover and cover-point in the opening 50 runs of his first hundred of the season. On 99, he was greeted with a packed ring field and van der Merwe bowling darts. After a couple of plinks into the leg side, he skipped down the track and sent the left-arm spinner into the covers for six.

When he holed out to deep midwicket for 171 - his highest first class score in county cricket - Surrey had 313 on the board in the 69th over. For that, they also owed thanks to Rory Burns.

While Sangakkara worked with flourishes, Burns dealt in straight lines. Perhaps the most flamboyant aspect of Burns' game is his set-up: knees bent, backside sitting directly above his heels, wrists cocked sending his bat out towards gully. It is a set-up that has now accrued him more than 4000 first class runs.