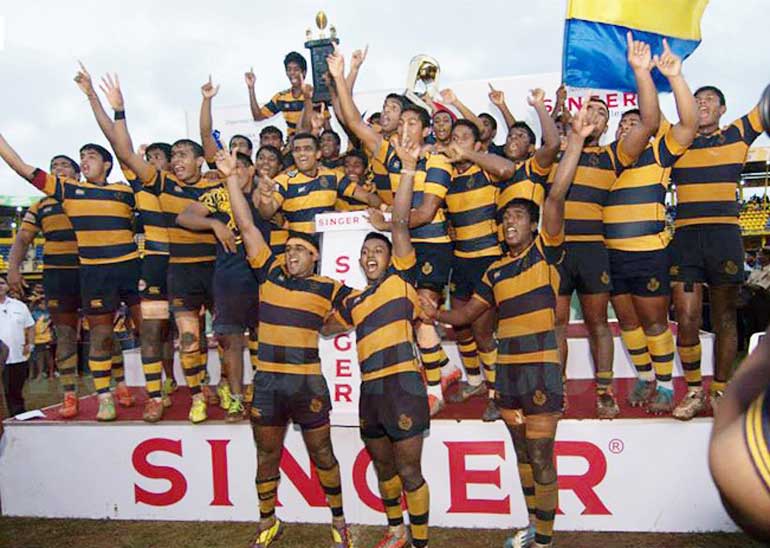 Royal -Singer League Under 20 Champions 2015
By Shamseer Jaleel

Royal College proved that they are no push-over rugby outfits in the Singer League 2015 when they not only put the full stop for Isipathana's unbeaten run but also secured the Singer League and Major Milroy Fernando trophy which was on offer.

The Reid Avenue school went on to beat Isipathana 21/8 after leading 16/8 at the short breather in front of a packed crowd at the Royal Sports Complex yesterday. Last time Royal won the League was in 2011 under Shehan Pathirana.

The game was played at a hectic pace though the ground condition was below average. It was a battle between the Royal forwards and Isipathana three quarter-line. Running rugby was a difficult option as the ground was full of mud due to recent continued rain in Colombo.


Much was expected from the defending champions Isipathana and their leader Omalka Gunaratne. Omalka had an off day. He was a well-marked man as expected plus his ball handling was below par, dropping on three occasions when Isipathana was on attack.

On Royal's part skipper Banuka Gamage led the team remarkably well with super support from ever reliable number 8 Supun Warunakulasuriya and their mobile forwards.

Royal opened scoring through reliable Ovin Askey penalty but Isipathana crossed the Royal line soon after through Kushan Indunil try which set the game on fire.

Evergreen Royal number 8 Supun Warunakulasuriya who had a grand season put the icing on the cake with a grand final League game for the Reid Avenue School.


He played his heart out in fact scored Royal's first try to take the lead 8/5. But Pathana who never gave up equalised through Isuru Kongahawatte penalty.

The next few minutes saw Royal going ahead through a rolling maul which ended in towering second rower Umesh Madushan to go over the try line to take the lead 13/8. Askey penalty took Royal lead to 16/8 at the short breather. On stroke of half time Isipathana missed an easy intercepted try when centre and try scorer Kushan Indunil knocked the ball forward.

After the turn-around Royal continued their dominating power. Unstoppable Royal number 8 Supun Warunakulasuriya scored his second try to take Royal 21/8 lead. This was his 16th try for the season. There was no further scoring.

Aruna Rankothge refereed the game.