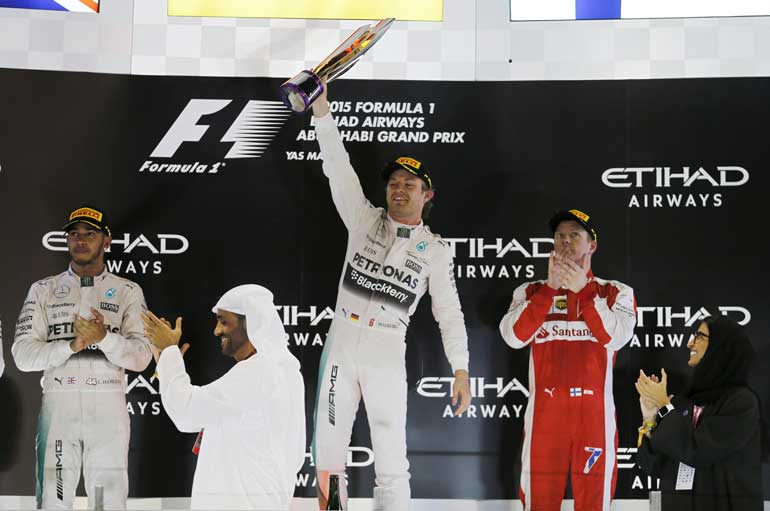 Mercedes Formula One driver Nico Rosberg of Germany (C) celebrates after winning the Abu Dhabi F1 Grand Prix at the Yas Marina circuit in Abu Dhabi 29 November - Reuters
AFP: Nico Rosberg ended his 2015 season in triumph on Sunday when he completed a hat-trick of victories in the Abu Dhabi Grand Prix ahead of his Mercedes team-mate and world champion Lewis Hamilton.

The 30-year-old German, who has produced remarkable dominant form since seeing Hamilton secure his third drivers' title at last month's United States Grand Prix, made a perfect start from his sixth successive pole position and, pit-stops apart, was in control all the way.

Rosberg, eight seconds clear of Hamilton, celebrated his sixth win of the year and the 14th of his career. It was his first success at the Yas Marina circuit where Hamilton beat him in 2014 to take his second title.

Hamilton won 10 races this year, but on Sunday was unable to rediscover the form that carried him to the championship.

Rosberg was understandably delighted.

"Austin was the low point of the season for me," he said. "But since then I've come back a lot stronger. Next season can start tomorrow for me! I don't need any holidays.

"Thanks to my team for my stunning car. I'm ecstatic. It's always tough to race Lewis, it's a great battle internally for us..."

Finn Kimi Raikkonen finished third ahead of his Ferrari team-mate, four-time former champion Sebastian Vettel and Sergio Perez of Force India.

The Mercedes team's one-two finish carried their points total to a record 703 for the season, more than the 701 they accumulated last year when the final race was awarded double points.

Hamilton finished on 381 points, with Rosberg on 322.