Reuters: Manchester United captain Wayne Rooney is confident he can play on at the highest level for another two to three years despite spending a significant part of the current campaign either on the bench or out injured.

Rooney has made 31 appearances for United this season, most of which as a substitute, with manager Jose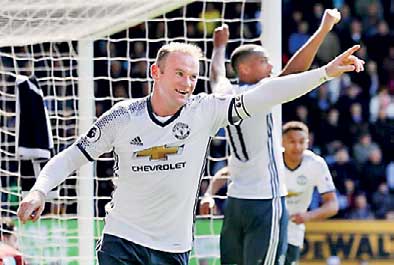 Mourinho relying more on top goalscorer Zlatan Ibrahimovic before a knee injury ended the 35-year-old's season.

Rooney, who played his fourth match in three months in United's 2-0 win over Burnley on Sunday, has also suffered recurring injuries throughout the season.

Asked if he could continue playing for another two to three years, Rooney told SkySports, "Yes. Even longer I think. Everyone mentions that age, I'm 31, not an old person. Of course, I've played a lot of game."

"Who knows, not playing so many games this season might benefit me."

Rooney said his experience could help United end the season strongly as they target a Europa League triumph and a top four finish in the league.

"I feel I can contribute quality, composure, experience, and know-how, how to get over the line, whether it's to win the league or finish top four or get to the final. That's a lot of experience I can contribute to the team," he said.

"Of course it's good to be back. I want to be back playing, and hopefully between now and the end of the season and leave a mark on the games I play."

Rooney said he was concentrating on performing to his best until the end of the season amid media reports linking him to a move away from Old Trafford.

"My focus at the minute is helping us reach the Europa League final, and to win it, and help us get to the top four. That's my focus at the minute," Rooney added.