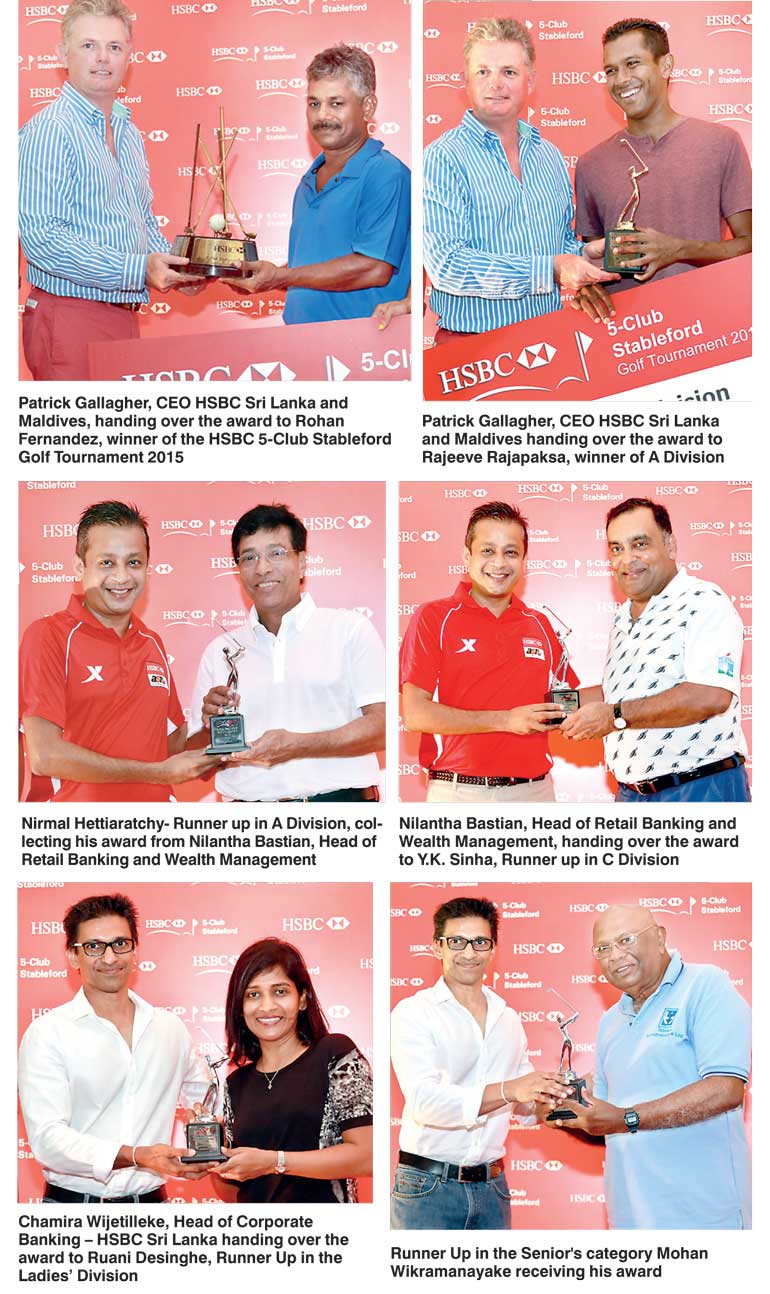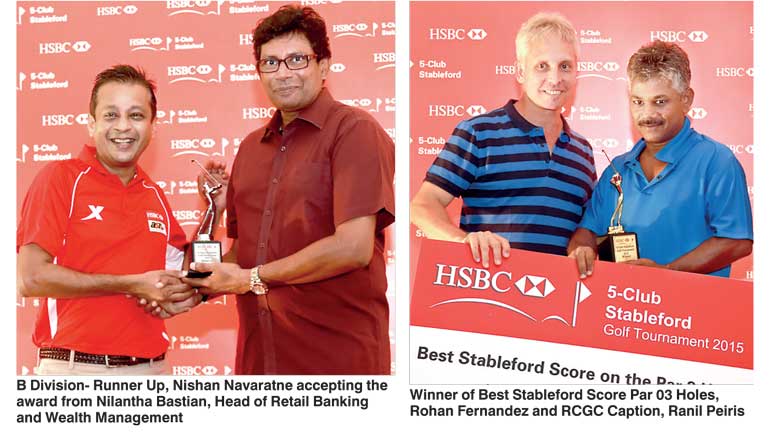 The traditional HSBC 5-Club Stableford Golf Tournament concluded over the weekend at the Royal Colombo Golf Club (RCGC), with Rohan Fernandez winning the Challenge Trophy for 2015, with an overall score of 38 points.

Winner of the Ladies division was Irene Scarth, while Christopher Dias won the Senior's category.

Organized by the Royal Colombo Golf Club and sponsored by HSBC for the twentieth year, the tournament was open to all members of the Royal Colombo Golf Club with a valid handicap. The tournament held on 12 and 14 June saw an overwhelming response and was oversubscribed once again and saw over 200 golfers participating in the Men's A B & C divisions, Ladies and Senior's categories.

The complete list of winners is as follows:
Overall Winner: Rohan Fernandez 38 Points
Winner A Division: Rajeeve Rajapaksa 34 Points B/B 9
Winner B Division: Rohan Fernandez 38 Points B/B 9
Winner C Division: M. Reza 34 Points B/B 9
Winner Seniors: Christopher Dias 36 Points B/B 9
Winner Ladies: Irene Scarth 43 Points
Runner Up A Division: Nirmal Hettiaratchy 34 Points
Runner Up B Division: Nishan Navaratne 38 Points
Runner Up C Division: Y. K. Sinha: 34 Points
Runner Up Seniors: Mohan Wikramanayake 36 Points
nRunner Up Ladies: Ruani Desinghe 38 Points
Celebrating the success of the HSBC 5-Club Stableford Tournament, HSBC will also hold its annual Premier Golf Tournament, exclusively for Premier customers at the picturesque Victoria Golf Club in Kandy on 12 September. Two winners will have the opportunity to witness the WGC HSBC Champions Golf tournament starting 2 November.