REUTERS: Liverpool Manager Brendan Rodgers was sacked on Sunday despite preserving his unbeaten record in seven Merseyside derbies against Everton with a 1-1 away draw in the Premier League.

Within a couple of hours of the Northern Irishman claiming after the stalemate at Goodison Park that, "I hope to be here for a bit longer yet", the club announced his dismissal.

More presciently, he told Sky Sports, "When the time comes for me not to be here, I'll accept that and move on because it's an incredible club and a wonderful club to work for."

"It is a very good point," Rodgers said after the draw. "It is a difficult place to come. We looked like we were getting better in our attack and defensively we were more cohesive."

After being held at home by Liverpool, Everton Manager Roberto Martinez believed his team, unbeaten in seven league and cup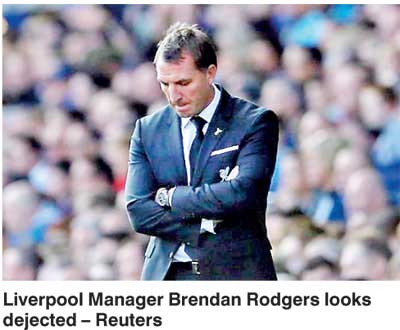 games, deserved to win a typically tense derby.

"Every time we had the ball in their half, we looked like creating something," he said. "(Liverpool goalkeeper Simon) Mignolet made two outstanding saves. We are disappointed with the goal we conceded."

That goal was headed in by an unmarked Danny Ings in the 42nd minute but there was still time for Everton's Romelu Lukaku to equalise before halftime.

Martinez felt Liverpool midfielder Lucas Leiva should have been sent off for a trip when he had already collected one of the game's six yellow cards.

The result left Everton one point ahead of their neighbours, who are 10th, six points behind leaders Manchester City.

City stayed top after thrashing Newcastle United 6-1 on Saturday because of the heavy defeat suffered by local rivals United at effervescent Arsenal.