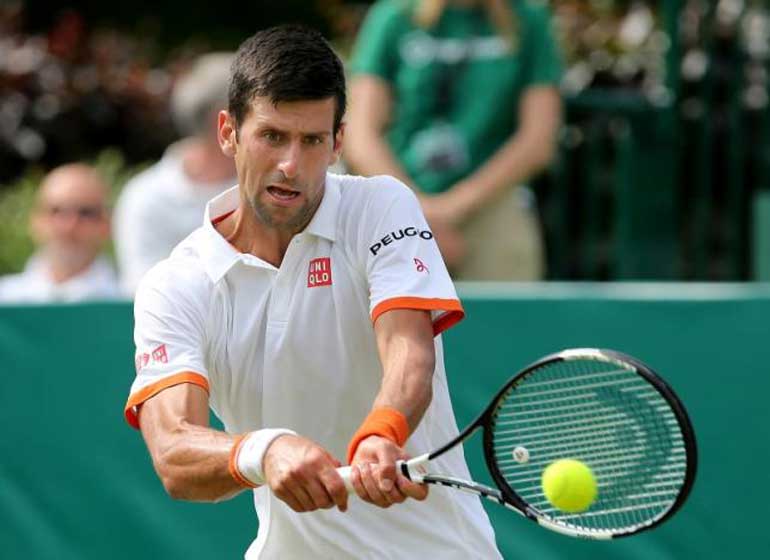 Tennis - Boodles Tennis Challenge - Stoke Park, Buckinghamshire - 25/6/15Serbia's Novak Djokovic in actionAction Images via - Reuters
Defending champion Novak Djokovic's preparations for Wimbledon have been laid back in the extreme.

The world number one has not played a competitive match since a gut-wrenching defeat by Stanislas Wawrinka in the French Open final at the start of the month, opting out of the Wimbledon warmup events in what has been an extended grasscourt swing.

Djokovic even posted a photograph of himself apparently asleep on one of the All England Club lawns this week but do not be deceived.

Once the Serb walks on to Centre Court on Monday to begin his quest for a third Wimbledon title he will flick the switch and the warrior instincts are sure to return.

Djokovic made it a mission this year to complete his career grand slam at Roland Garros and after back-to-back wins against Rafa Nadal and Andy Murray in the quarter-finals and semi-finals his moment seemed to have arrived.

An inspired Wawrinka slammed the door shut though.

It was a heartbreaking defeat for Djokovic but a fortnight in the English country garden setting of the All England Club, with some expected warm weather too, will provide the perfect antedote for any lingering disappointment.

"He was very close to achieving something that very few players have done ... he probably needed some time away to rest and relax and get his head right," said Wimbledon third seed Andy Murray.

Djokovic's most likely title rivals, Murray and 17-times grand slam champion Roger Federer, have been busy sharpening their grasscourt tools.

Murray breezed to a fourth Queen's Club title while Federer's eighth Halle crown in Germany backed up the belief that, even at 33, the second seed could win an eighth Wimbledon crown to move past American Pete Sampras in the all-time list.


Full volume

'Murray Mania' will pump up to full volume over the next couple of weeks with the in-form Briton being tipped to win his first slam since beating Djokovic on Centre Court in 2013.

He has lost eight in a row to Djokovic since then and such is Djokovic's reliability that it is likely Murray will have to solve that conundrum if he is to triumph.

"He has put himself back in the mix," triple Wimbledon champion John McEnroe said of the Scot's resurgence after a lacklustre 2014.

"I think overall he is 10 to 15% better and that is a significant amount at his level."

Twice champion Nadal will arrive under the radar.

Seeded 10th after a mediocre year, dethroned French Open king Nadal won his first grasscourt title for five years in Stuttgart a few days later and then lost to Alexandr Dolgopolov at Queen's but no one will want to face him.

"I think in certain ways it's not about the shots, it's more about what's inside his head, how healthy he is," said McEnroe.

Last year's tournament saw Grigor Dimitrov oust defending champion Murray, Australian trailblazer Nick Kyrgios hammered Nadal and Milos Raonic fell to Federer in the semi-finals and that trio will return with high expectations.

The unpredictable Kyrgios, 20, has the 'wow' factor to shake up the establishment, according to fellow Aussie Darren Cahill who once coached former champion Lleyton Hewitt.

"There are going to be highs and lows with Nick because he's so young and goes for broke but he clearly likes the biggest stages and that makes him dangerous," said Cahill.