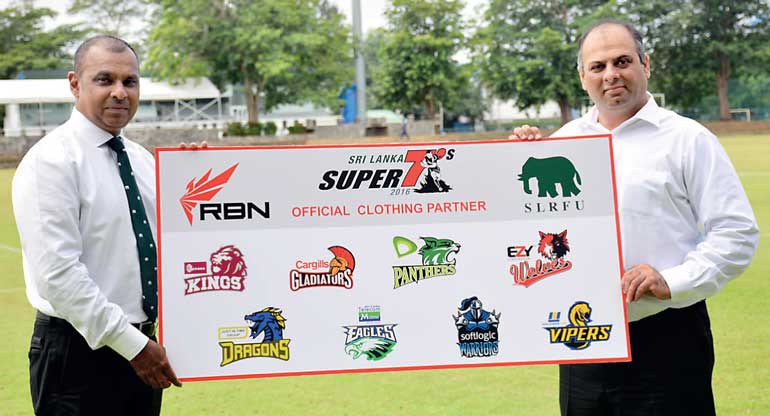 Stafford Garments Managing Director Shakir Hafeez (right) and SLRFU President Asanga Seneviratne
Manufactured by Stafford Garments, RBN - Sri Lanka's first performance wear brand for men and women built with the Sri Lankan athlete in mind - has pledged to continue its association with Sri Lanka Rugby.

"RBN is proud to continue its partnership with Sri Lanka Rugby, having first developed clothing for the rugby national team in 2013," said Stafford Garments Managing Director Shakir Hafeez.

RBN is Sri Lanka's only locally designed and built performance clothing brand with a focus on rugby, running, cycling and fitness training.

"RBN understands the specific needs of each sport and the rugby jersey is designed to withstand a higher intensity of wear and tear as well as deliver player comfort and performance," said Hafeez.

The new jersey is also equipped with a 'vapetech' moisture management platform to ensure players are better able to endure higher temperatures.

RBN uses its own collection of data to study and improve its product vis a vis its fit and performance and has delivered a rugby jersey with the ideal levels of compression which enables players to maximize their performance in what is an extremely demanding sport.

"RBN understands the specific needs of each sport and the rugby jersey is designed to withstand a higher intensity of wear and tear as well as deliver player comfort and performance," said RBN Design and Development Associate Irfan Ahmed.

"We are fortunate to have RBN as our clothing partner as it is a superior brand on par with any international brand and has consistently delivered the right mix of comfort and quality for our players," said SLRFU President Asanga Seneviratne.

"The ongoing fitness revolution in Sri Lanka forms an ideal backdrop for RBN to purpose design and engineer a range of performance garments that suit the local climate and user conditions and will effectively combine fashion and performance whether for a professional athlete or beginner," said Hafeez.

He went on to say that RBN was the result of extensive research and development focusing on local conditions, local athlete insights and a multitude of sporting activities that have now seen a surge in Sri Lanka.

A critical step taken by the brand was the staging of "sizing" research to understand the different body types of men and women in Sri Lanka and how performance apparel could offer style and performance that was better suited to local conditions than imported sportswear brands.

"The material composition is also carefully engineered to offer comfort and breathability with specific relevance to local climate conditions. Performance factors such as compression have also been looked in to for consumers with demanding performance needs. The product is specifically engineered for Sri Lanka while maintaining world-class product development and manufacturing standards and is powered by its own moisture management and anti-bacterial platform 'vapetech TM'.

RBN would be available in the following categories for men and women, namely RBN Core, which is a power compression base layer garment range for semi-professionals as well as professionals in sport, while RBN Sportech comprises a range of performance wear for the gym, running, biking and training . RBN is an 'athleisure' casual wear range, while RBN Digital is a range of digital products for quantifying fitness.

Hafeez stressed the fact that RBN is engineered by a team of highly capable product engineers who specialize in fit and construction, as well as material and performance management, whose background in apparel product development with exposure to internationally recognized brands has led to an ideal combination of local expertise driving a world class product.

RBN is owned and managed by Stafford Garment Industries, a pioneer in apparel manufacture with over 15 years' experience in supply chain, manufacturing and distribution. Stafford adopts the most stringent quality standards and is compliant with internationally accepted quality standards. The company brings a wealth of experience in manufacturing high quality sportswear and employs highly knowledgeable people in the manufacture of technical garments.