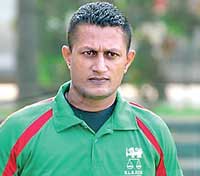 By Shamseer Jaleel

Former St. Sylvester's College and Kandy SC player, Aruna Rankothge, who possesses 18 years' experience as a referee, will officiate the second leg of the 71st Bradby, which will take place on 23 May at the Royal Sports Complex.

He was a former Asian Rugby Football Union panel A and B referee. He has handled several foreign assignments such as the Singapore Cricket Club Rugby Sevens, the East Asian Sevens in Thailand, the Dubai Sevens where he was an assistant referee, the Carlton Rugby Sevens, the Clifford Cup Final (2009), the HSBC Asian Sevens in India (2011) and the Bradby (2002).

He also completed his Level III in the Philippines three years ago and followed up with a Level I on CMO last year.