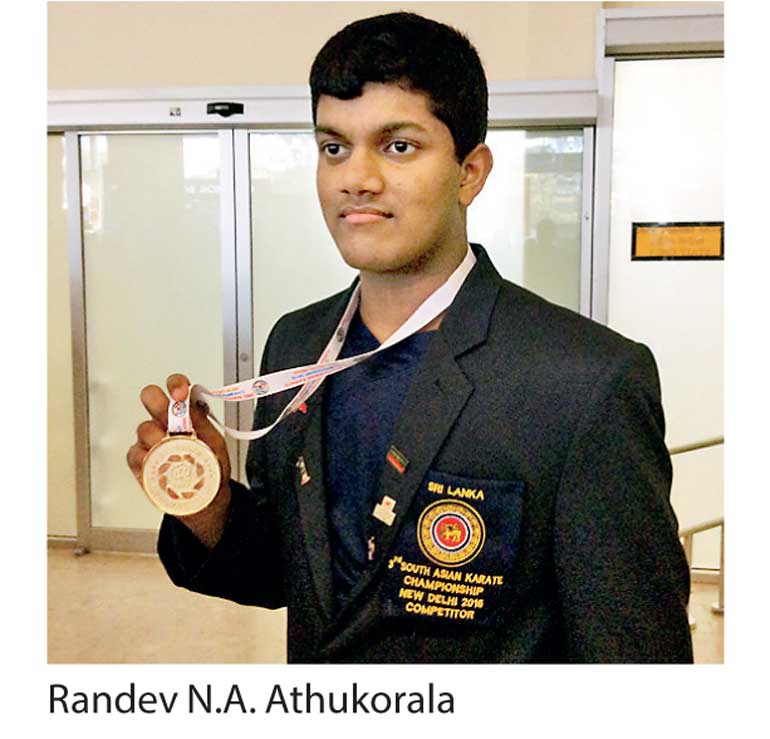 The World Karate Rankings as at April 2017, Peterite Karateka and Sri Lanka's Cadet Karate team captain Randev N.A. Athukorala has achieved the rank of World Rank 17 behind Russian Robert Avakimov, Spanish athlete Daniel Martin Perez and Brazilian Guilherme Silva in the Cadet 70kg+ weight class which will sure to give a boost to the sport that is currently the second most popular sport in Sri Lanka.

In the Asian region 15 year old young Athukorala is ranked No. 2 behind Indonesian athlete Billy Bilmona Mohammad Besnuh whilst Chinese Karateka Yunlong Hu is at third place behind the Sri Lankan. There are only three athletes from Asia that have made it to the world top thirty ranking which is an honour that the Sri Lankan Karateka has brought to the country.

The President of the Sri Lanka Schools Karate Do Association Anura Shantha said: "We spotted his talent when he won the Silver medal at the blue ribbon school tournament in the Asian region Milo Karate Championship in Malaysia when he was just 11 years old." The President of the Karate Do Federation H.M. Sisira Kumara commented: "Given that Sri Lanka is hosting the 2017 South Asian Karate Championships in August, we must use the opportunity to create awareness that karate has the second highest number of athletes in a sport in Sri Lanka and thereby have more athletes coming into the standards of Global Karate Ratings," he said.

The formative training was done by Sensei D.M.D Nimal and Sensei Safraz whilst now the National coaches Sensei Jurangpathy, Sensei Kalyani is training him for 2017 South Asian Games and Olympic 2020. His manager is his father Dr. Rohantha Athukorala whilst for spiritual guidance the Rector St. Peter's Rev. Fr. Trevor Martin and Rev. Fr. Lakmin support the youngster.