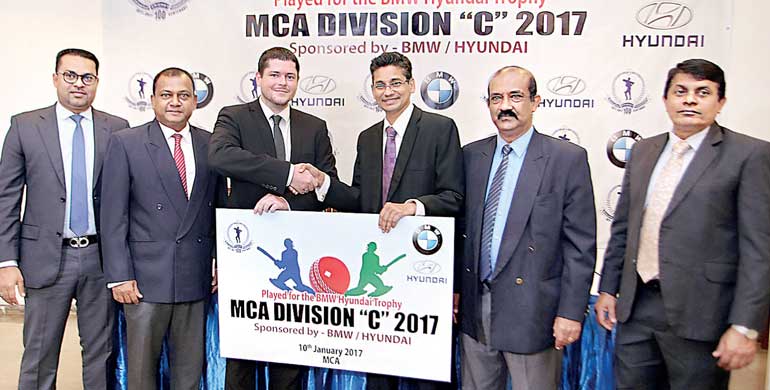 Hyundai Lanka Ltd. Director Julian Reuter (third from left) handing over the sponsorship package to MCA President Niran Mahawatte (third from right). Others from left: Niranga Peiris - Director/Sales and Ranjith Jayawardena - Director/Marketing (both from Prestige Automobile Ltd), Nalin Wickramasinghe - General Secretary and Sujeewa de Silva - Chairman Tournament Committee (both from MCA)
Prestige Automobile Ltd. will power the MCA 'C' Division 50-Over League Tournament 2017 for the sixth successive year and will offer the glittering BMW/Hyundai Trophy to the winner, as they did in previous years.

Ten teams, pooled into two groups, are participating in the tournament where DHT Cement will be making their debut in mercantile cricket.

The groups: LB Finance 'B', Commercial Credit & Finance 'B', Commercial Leasing & Finance, Nations Trust Bank 'A' and Colombo Dockyard (all in Group A). Standard Chartered Bank, JL Morison, Airport and Aviation Services, Peoples Leasing and Finance Plc and DHT Cement were all in Group B.

The tournament will be conducted in two stages – the league and knockout stages.

The league stage, consisting of 20 matches, got underway last weekend on 7 and 8 January and will be completed on 5 February.

The knockout stage, with the top eight teams from two groups, is composed of the quarterfinals on 11 and 12 February. The semifinals on 18 February and the finals on 25 February 2017.

The venues for both stages are the MCA grounds, De Soysa Stadium, Moratuwa, St. Benedict's College, Kotahena, Wesley College, Campbell Park, Thurstan College, Army Mattegoda and FTZ Katunayake.

All matches will be under the jurisdiction of an MCA-appointed match referee. The on-field umpires will be assigned by the Association of Cricket Umpires (ACU) and the scorers from SLSA, who will apply the D&L method.

All matches up to the final will be played with a Grays of Cambridge super match ball directly imported by MCA from Pakistan, bearing the MCA Logo.

Special awards will be presented to the Best Batsman, Best Bowler, Man of the Final and Man of the Series.

Last season the BMW-Hyundai Trophy was won by PABC Bank, who beat the McLarens Group by two wickets in a tense final played on 13 February 2016 at the MCA Grounds.

The sponsorship ceremony was held on Tuesday, 10 January at the MCA Pavilion lounge at 6.00 p.m.

Those present at the occasion were Julian Reuter – Director, Hyundai Lanka Ltd; Niranga Peiris – Director Sales and Ranjith Jayawardena – Director Marketing both from Prestige Automobile Ltd, Niran Mahawatte, President, Nalin Wickramasinghe, General Secretary and Sujeewa de Silva, Chairman, Tournament Committee, all representing MCA.