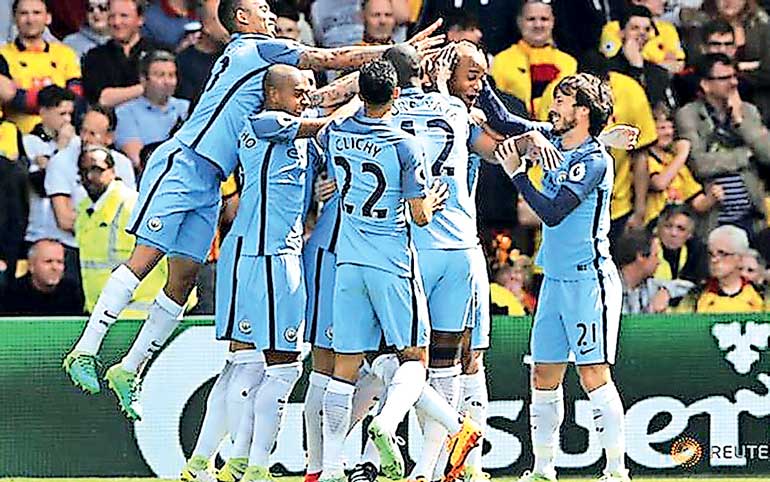 LONDON (Reuters) - Premier League clubs have spent more than 850 million pounds ($1.1 billion) in this summer's transfer window and are on course to break their record, data released by website Sporting Intelligence showed on Monday.

With more than a month remaining before the close of transfer business on Aug. 31, English clubs are again proving to be Europe's heaviest spenders and will likely top the 1.165 billion pounds they lavished on new players last summer.

Manchester City have spent the most, 188 million pounds on six new players, with Monaco's Bernard Mendy becoming the latest to join on Monday. City did not publish a fee, but British media reported it to be around 49 million pounds. [L3N1KF45X]

City have received 34.2 million pounds from selling five players, leaving a net spend of more than 150 million pounds.

Champions Chelsea are the next biggest spenders on 130.4 million pounds, followed by Manchester United on 105.8 million pounds, although Jose Mourinho's club say they will make a further two signings during this transfer window.

Meanwhile, Everton who have spent 93.4 million pounds, have recouped it all, mainly by selling Romelu Lukaku to Manchester United. Arsenal, whose manager Arsene Wenger has been under pressure to bring in new players after a disappointing season, have so far spent 52.7 million pounds.

Three clubs, Tottenham Hotspur, Stoke City and Crystal Palace have yet to spend anything, with Spurs currently 74.3 million pounds in credit on all deals.

All three teams promoted to the Premier League have invested, with Huddersfield's 36.4 million pounds just topping Newcastle United's 31.2 milllion pound, while Brighton and Hove Albion have spent just 13.3 million pounds.

The figures reflect the huge riches being pumped into the world's most lucrative league, with clubs receiving 8.3 billion pounds in TV rights alone for the current three-year cycle.

Such riches mean Premier League clubs are paying a premium in the market. West Bromwich Albion manager Tony Pulis became the latest to question the current trend of hyperinflation.

"At the moment the market out there has gone crazy," he said last week. At 19.8 million pounds, Albion have been one of the league's most modest spenders.

The new Premier League seasons on Aug. 11.