UTE extends sponsorship yet again
The Pin Fernando Trophy first played in the RCGC Centenary Year 1979, in honour of the best Sri Lankan Amateur Golfer the Late Pin Fernando gets underway at the 'Ridgeways' with the Qualifiers Round on 11 July. There will be 16 qualifiers who will advance to the Knock-out stage of the tournament.

Pin passed away in 1981, but his legacy lives on having won a record Grand Total of 52 Championships in his long and illustrious golfing career since his first Ceylon Championship victory in 1947, with 11 Sri Lanka Amateur Championship titles, 2 All India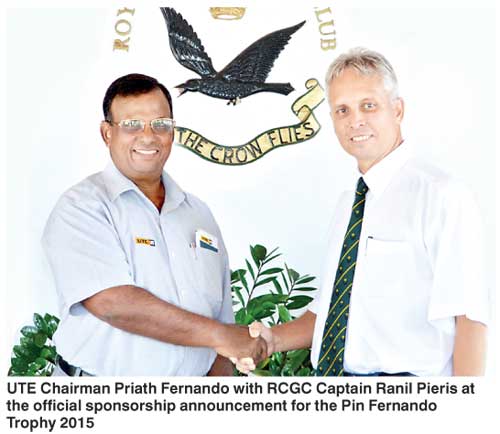 Amateur Championship titles, 2 Sri Lanka Open titles, 1 Western Indian Open title, 19 RCGC Championship titles, 11 Havelock Golf Club Championship titles and 7 Nuwara Eliya Golf Club Championship titles all of which are still unmatched.

The tournament underwent a few changes in format before settling into a single stroke-play qualifying round followed by match play format of 16 qualifiers. Priath Fernando Chairman of UTE, the former Captain of the RCGC and the only son of the Late Pin Fernando is grateful to the RCGC for continuously giving UTE the opportunity to be associated with Sri Lanka's greatest golfing family Pin & Pam Fernando through the sponsorship of the Pin & Pam Fernando Trophy.

The current title holders of the Pin & Pam Fernando trophy are Alan Gyi and last year's RCGC Lady Captain Jane Hong respectively. This year promises to be even more competitive with the RCGC offering tough international conditions of the golf course which will mean that only the best and most consistent golfers will come through. It is heartening to note that RCGC is facilitating better golf and to see many youngsters who are improving their game on a daily basis.

The Ladies event inaugurated in 2012, for the Pam Fernando Trophy will be conducted concurrently at the RCGC. The first winner of the Pam Fernando Trophy was Suwen Selvaratnam who beat Roshini Sangani in the final. Pam Fernando, who only started her golfing career after marrying Pin also had a distinguished golf record of five Sri Lanka titles and enjoys the honour of being the oldest winner of a Ladies National Golf Title mentioned in the Guinness book of World records. The RCGC Ladies section resolved to make this event a Board event from this year to honour her unique golfing achievements and her contribution to the RCGC in developing ladies and junior golf.

The Match-Play rounds will commence during the week of 13 July and the Final will be played on Friday 17 July.

UTE will be sponsoring an extravagant award ceremony after the qualifying round with a special evening at PLAYTRIX which is a unique Sports Bar and Restaurant where Pin & Pam's winning golf trophies are proudly displayed.