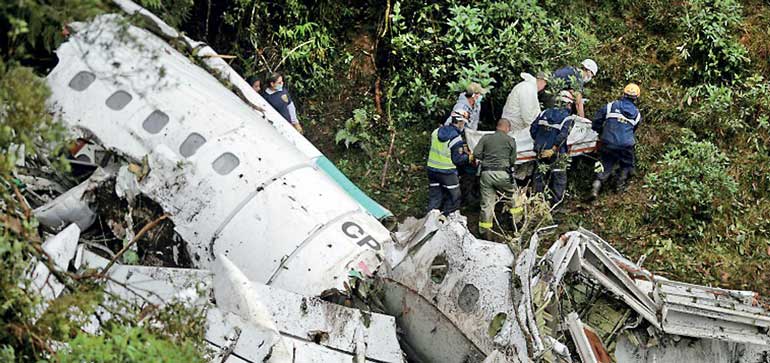 Raul Arboleda Rescue teams recover the bodies of victims of the LAMIA airlines charter that crashed in the mountains of Cerro Gordo, Colombia, on 29 November 2016 - STR/AFP
AFP: Brazil football legend Pele and Argentines Diego Maradona and Lionel Messi led numerous sporting tributes Tuesday to the Brazilian footballers killed in a plane crash in Colombia.

Players of the Chapecoense Real team were among 81 people on board the doomed flight that crashed into mountains in north-western Colombia.

"Brazilian football is in mourning. It is such a tragic loss," Pele, 76, wrote on Twitter.

"My sincere condolences to the families of the deceased. Rest in peace."

Colombian officials said just six people were thought to have survived, including three of the players.

Chapecoense had risen from obscurity to make it to the Copa Sudamericana finals scheduled for Wednesday against Atletico Nacional of Colombia.

"Sadly those lads, who were on the way to becoming a force in football, took the wrong plane," Argentine star Maradona, 56, wrote on Facebook.

In Spain, top teams Real Madrid and Barcelona each held a minute's silence at their training sessions.

"My sincere condolences to all the families, friends and fans of the Chapecoense squad," Barcelona striker Messi, 29, wrote on Twitter.

His teammate Luis Suarez of Uruguay tweeted "support and affection to the families."

Other messages flooded in from players including Colombian star Radamel Falcao of Monaco and Real Madrid defender Sergio Ramos.