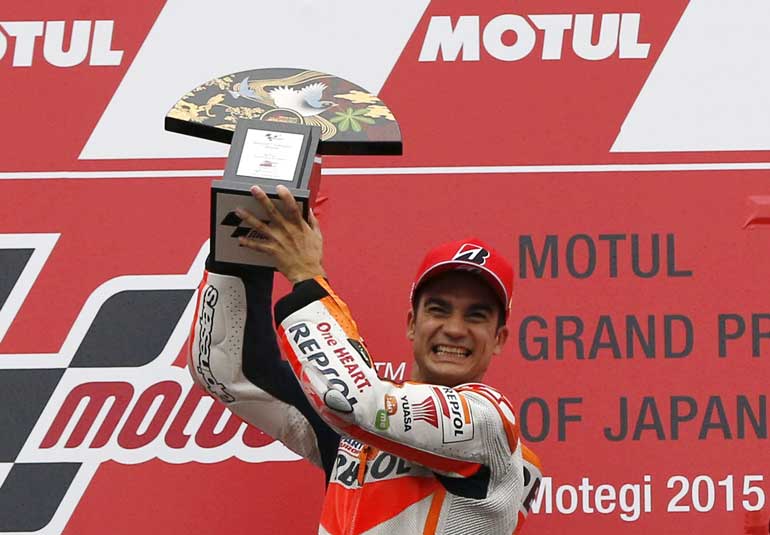 Honda MotoGP rider Dani Pedrosa of Spain raises his trophy as he celebrates on the podium after winning the Japanese Grand Prix at the Twin Ring Motegi circuit in Motegi, north of Tokyo, Japan, 11 October – Reuters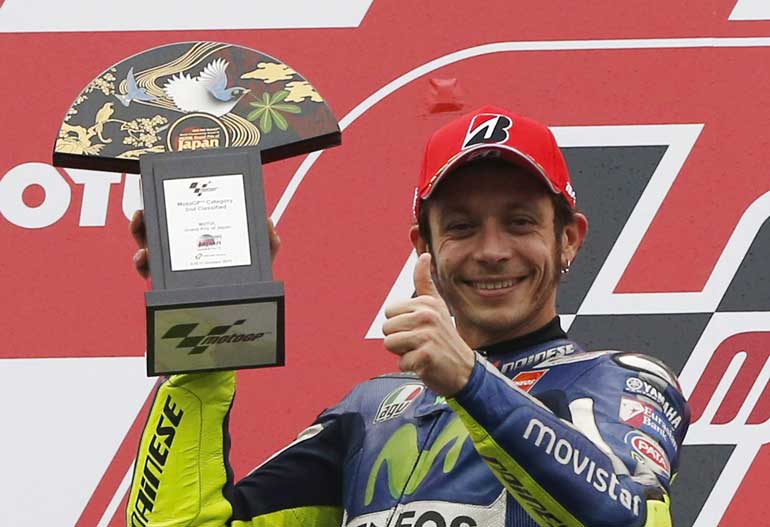 Yamaha MotoGP rider Valentino Rossi of Italy raises his trophy on the podium after the Japanese Grand Prix at the Twin Ring Motegi circuit in Motegi, north of Tokyo, Japan, 11 October. Rossi finished second – REUTERS
Reuters: Spain's Dani Pedrosa claimed the 50th Grand Prix win of his career on Sunday (11 October), taking victory in the Japanese MotoGP in Motegi as runner-up Valentino Rossi of Italy extended his lead in the championship standings.

The Yamahas of Jorge Lorenzo of Spain and Rossi were fastest off the line, leaving the Hondas of world champion Marc Marquez of Spain and Pedrosa behind.

Lorenzo passed Rossi for the lead and pulled out a considerable advantage but Pedrosa speeded up as the others wore down their tyres.

He caught and passed Rossi for second place and then Lorenzo for the lead with seven laps remaining.

Lorenzo was visibly struggling and ran wide with five laps left to let Rossi into second place.

Pedrosa, who almost quit the sport earlier this year because of an arm problem that needed surgery, pulled clear of his rivals to win for the first time this season and the 50th of his career, which began in the 125cc class in 2001.

Rossi finished second while his Yamaha team mate and championship rival Lorenzo faded to third.

"Little by little I kept my rhythm while the other riders maybe burned their tyres and I was always trying to save (them)," said Pedrosa. "So at the end my pace was faster and a good one the first race, so I am very happy."

Rossi now leads Lorenzo by 18 points in the standings with a maximum of 75 available from the remaining three rounds, in Australia, Malaysia and Valencia.

Pedrosa had not won a MotoGP race since the Czech Grand Prix in August 2014 and missed three of the season's first four races due to the arm surgery.

Johann Zarco celebrated his first Moto2 title by winning his seventh race of the season.

The Frenchman learned on Friday (October 9) that he was the Moto2 champion when Spaniard Tito Rabat, the only other rider with any mathematical chance of overtaking him, withdrew from the race because of injury.

The race was cut to 15 laps because of the foul weather. After a slow start from pole, Zarco took the lead on the seventh lap and raced away to win.

Jonas Folger, a two-time winner this season, held on for second ahead of his fellow German Sandro Cortese, who claimed his first podium finish this year.

"It is the best way to celebrate the title, get the victory in Japan," said Zarco. "Even if I get the title on Friday I say every time that I want to keep the concentration, don't make mistake."

Italy's Niccolo Antonelli won the Moto3 race, which was reduced from 20 to 13 laps, while Britain's Danny Kent extended his championship lead to 56 points.

Antonelli made a flying start on his Honda and led all the way, capturing his second race win this year.

Miguel Oliveira of Portugal finished second and Jorge Navarro of Spain third while Kent was sixth but still managed to stretch his lead by finishing ahead of his nearest title rival, Italian Enea Bastianini.