PTI (New Delhi): The titles keep piling up but Pankaj Advani's hunger remains unsatiated and India's star billiards player will now be eyeing a record sixth Asian title when he competes in the event from 1 March in Colombo. He has amassed a record 15 world titles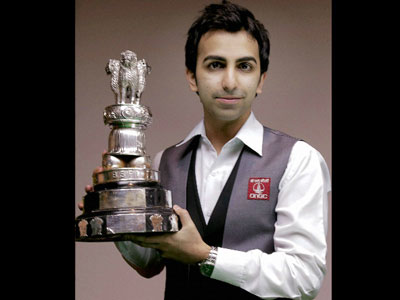 across all formats of billiards and snooker, but the 30-year-old is eager to break his own record of the maximum number of Asian titles.

A finalist in the previous season after losing to compatriot, Dhruv Sitwala, Advani was the first to admit that the challenge of winning the title after three years would be tough, yet extremely exciting.

"None of the competitions that I have ever participated in have been easy. Every competition in all formats of the sport has always presented its own challenges and competition and it's the excitement in conquering those challenges that keeps me going," Advani said.

"Holding a record fuve titles in this championship, I know that working towards another title will be an uphill task with some tough competition from Singapore's Gilchrist and Thailand's Praput and Thawat not discounting the strong Indian challenge from last year's Champion Dhruv," Advani said.

With the Asian Billiards Championship being played in the 100-Up format, which means one has to first score over 100 points to win the frame, the outcome of each match in this short format will be almost impossible to predict.

"The lack of control in this format of the game is what I believes makes it even more exciting. The skill of being a champion in the sport has taken me years to hone and perfect, the unpredictability of this format presents itself in scenarios that are tough to fully decipher and foresee. A challenge that is on conquering will present itself in a hard -earned title," Advani said.