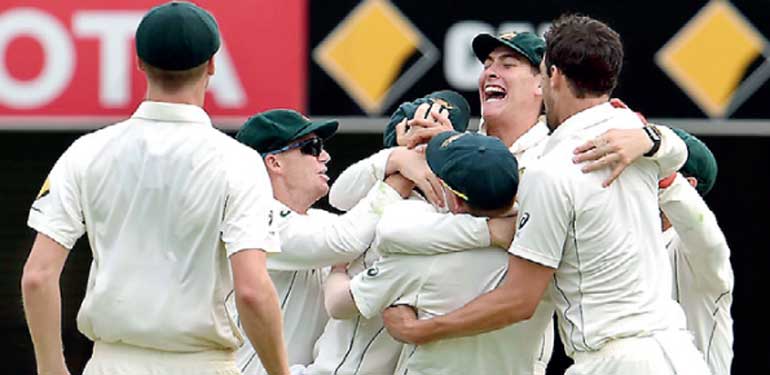 The Australian players celebrate the run-out of Yasir Shah, which ended the game – AFP
ESPNcricinfo: Pakistan's bid for a world-record chase fell a mere 40 runs short, allowing Australia to exhale after coming close to coughing up a match they had dominated over the first four days and nights at the Gabba.

Asad Shafiq's sublime century and sturdy support from Yasir Shah took Steven Smith's men close to their wit's end, but a Mitchell Starc short ball did for Shafiq when the visitors needed only 41 runs to steal the most fanciful of victories. Three balls later, Smith struck the final blow, running out Yasir from slip after the No. 10 wandered out of his crease, ending a match that had seemed destined for a much wider margin.

Starc's speed and direction were vital throughout, and it remains to be seen whether the huge number of overs bowled by him and Josh Hazlewood will have an impact on their physical preparation for the Boxing Day Test in Melbourne. The Australians had a hangdog air in the field for much of the final day, and their relief at the final wickets was palpable.

Pakistan, by contrast, will now feel they are very much in the series, with matches on friendlier surfaces in Melbourne and Sydney to come. The Gabba has always been a major competitive advantage for Australia, and the close result will afford plenty of confidence to the tourists even if they are now 1-0 down with two to play.

When play began half an hour early, both sides seemed a little unsure of their ground. Shafiq did not take singles he would have gone for the night before, while Smith's fields were notably defensive, often sparing only one slip in a match where catches in the cordon have been comfortably the main mode of dismissal.

After the first few overs passed without incident, Shafiq and Yasir grew in confidence, doubtless aided by a vocal contingent of Pakistan supporters who made their presence felt in an otherwise deserted stadium. Shafiq was able to find numerous off-side gaps, while Yasir married impressive defence with the occasional flourish, including an upper cut over the slips and later a handsome flick over midwicket off Jackson Bird.

At length Smith brought Nathan Lyon into the attack, but the spinner was unable to find enough consistency to trouble either batsman – even if Matthew Wade appealed for a stumping from a straighter ball that Yasir played inside. Lyon soon found himself relieved of duty.

As the runs ticked down the tenseness on Australian faces was acute. Several near misses took place: Yasir square drove in the air a millimetre out of the reach of a diving Lyon; he was given out lbw to Hazlewood padding up, but on review was reprieved by the bounce. Next Yasir appeared to get the slightest of touches when glancing Starc, but Wade could not hang on and any appeal was strangled.

Only 41 runs were required when Starc finally found the delivery to break the stand, a throat ball that Shafiq could only throw his bat at, resulting in a skier that David Warner was able to cling onto at gully. Rahat Ali took a single first ball, but Yasir's composure was clearly at an end when he swung wildly at the next one.

Next ball Yasir dug out a Starc yorker but ventured out of his crease long enough for Smith to throw the stumps down from slips and begin relieved celebrations for a team that went from dominators to nervous wrecks over the course of Shafiq's wondrous innings.