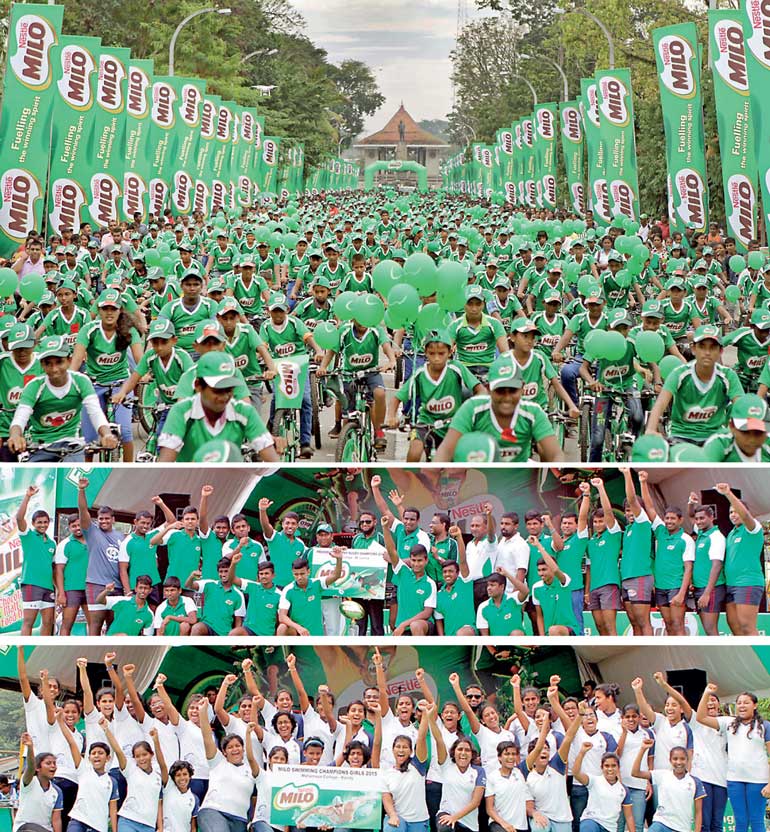 Milo, the energy beverage brand in Sri Lanka, painted the streets of Colombo in its vibrant shades of green with a mega Milo Cycle Parade, bringing the 'Mom, Me and My Milo' campaign to a grand finale. An impressive 1,000 Milo-branded cycles took to the streets, along with thousands of other participants, making their way from the Sports Ministry grounds and reaching its final destination, Thurstan College rugby grounds where the celebrations continued with a grand carnival.

The popular brand that has encouraged physical activity amongst schoolchildren through its various sports initiatives for over three decades, recently gave away 1,000 mountain bikes over a period of one month with the aim of promoting an active lifestyle amongst its young consumers.

Advocating the importance of good nutrition and an active lifestyle for a well-balanced life, Milo believes that the 'Mom, Me and My Milo' campaign provided a platform for children to lead a healthier lifestyle by engaging in cycling – a greatly loved physical activity in their leisure hours.

As a brand that has been fuelling the winning spirit of young athletes by sponsoring key national school sports such as rugby, athletics, swimming and netball over the years, Milo additionally made the cycle parade a platform to further recognise the winners of this year's Milo Sports Championships.

Those who were recognised were, first-time winners of the Milo President's Trophy Rugby Tournament – Science College; the All-Island Milo Netball Champions for eight consecutive years – Holy Family Convent, Kurunegala; the All-Island Milo Swimming Champions (Boys) for 12 consecutive years – St. Joseph's College, Colombo, and the All-Island Milo Swimming Champions (Girls) for 17 consecutive years – Mahamaya Girls College, Kandy.

The parade culminated with the Milo Grand Carnival at the Thurstan College rugby grounds with entertainment for the attendees. The proceedings included live band performances and other exciting attractions such as the '#MILOcheerfie' photography booths, games, a special Nestlé Nutri-Corner for free health screening, food stalls and enticing prizes and surprises.