ESPNcricinfo: Pakistan offspinner Saeed Ajmal has declined a 'fitting send-off' from the Pakistan Cricket Board and said he "had no intention of quitting and will keep on playing domestic cricket."

Last week, PCB executive committee chairman Najam Sethi had tweeted, "PCB will honour (Shahid) Afridi and Ajmal in fitting send-offs. I will meet and discuss this with them next week."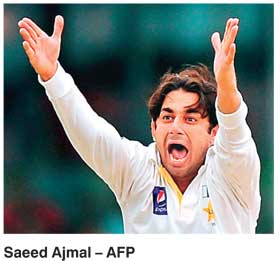 Ajmal, however, was in no mood to retire. "I have proved my fitness in the National T20 Cup. I should be given a chance," he told Dawn. "If I fail to perform, I will walk away myself. I am not quitting and will keep on playing domestic cricket.

"I have worked really hard to stage a comeback and my performance in the National T20 Cup reflects that," Ajmal said. "The board doesn't have a decent offspinner in its entire domestic structure. I have played a key role in so many victories, the board should give me a chance like the West Indies are giving to Sunil Narine."

Ajmal finished this year's National T20 Cup as the leading wicket-taker with 20 wickets in nine games at an average of 11 and a strike rate of 6.28.

In September 2014, Ajmal was banned from bowling in international cricket after his action was deemed illegal for all deliveries. He subsequently remodelled his action and won his place back in the national team for all formats for the tour of Bangladesh in April last year. However, he was dropped later that year for a lack of impact: he took just one wicket in three limited-overs matches in Bangladesh at an economy rate of 6.57.

In an interview with The Cricket Monthly earlier this year, Ajmal had expressed his readiness for international cricket. "There is a big difference from the time when I played in the Bangladesh series last year after I was cleared," Ajmal had said. "At that point I had the fear on the inside. Now I have removed that fear by working hard."

Ajmal has taken 178 Test wickets in 35 matches at an average of 28.10, but last played in the format in August 2014. He also has a combined tally of 269 wickets in 177 limited-overs games.