Reuters: Making India the top team in all formats of the game will be the priority for Indian board (BCCI) president Anurag Thakur, the 41-year-old said after taking charge of the world's richest cricket board on Sunday.

The top BCCI job, often called the most powerful position in cricket because of India's financial muscle in the sport, has been vacant since Shashank Manohar resigned this month to take over as chairman of the International Cricket Council.

The BCCI elected one of its youngest ever presidents in a meeting in Mumbai where the parliamentarian representing India's ruling Bharatiya Janata Party was the lone candidate for the post.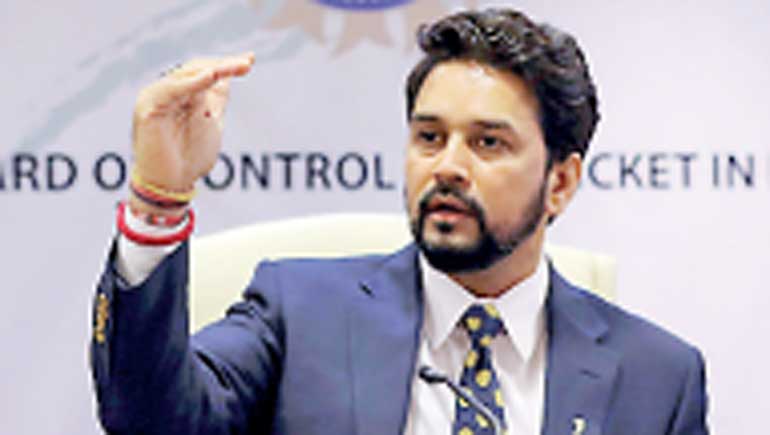 Anurag Thakur
"Currently our team is number two in tests and T20 and number four in ODIs and in women's cricket," Thakur told reporters.

"We will take every step whatever is possible to make India number one in all four."

Since this year's World Twenty20 on home soil, the Indian team has been without a coach. Thakur said the board would advertise the post and shortlist the applicants after June 10.

Often led by seasoned administrators, the BCCI is perceived as an efficient but opaque body run by industrialists and politicians.

Thakur said he was lucky to have learnt from three BCCI chiefs - Jagmohan Dalmiya, Narayanswami Srinivasan and Manohar – who also headed the International Cricket Council.

He takes charge at a time when the board is under pressure from India's top court to bring about change.

"We have introduced many reforms in the last 15 months...We will further strengthen it," Thakur said. "Transparency, accountability and professionalism will be part of BCCI's working. "Nobody is perfect. Wherever there are issues, we'd try and rectify that. As the custodian of the country's most popular sport, we're aware of our responsibilities and we'll fulfil out duties."
The board has earmarked one billion Indian rupees ($14.84 million) for a "green initiative" for new and existing stadiums, Thakur said.