NDB continuously endeavours to foster sustainability across all its business decisions and activities and believes in inculcating responsible behaviour in all its employees ensuring that sustainability becomes a way of life.

Therefore through the bank's annual 'Employee Volunteerism Programme', NDB's employees are empowered and encouraged to volunteer and extend their support to be a part of Trail 2016 to make a meaningful change to society at large.

Trail was initiated in conjunction with the Colours of Courage Trust in an effort to bring together communities across Sri Lanka and collectively drive the nation's fight against cancer. It is a charity walk that carries a message of unity and understanding while raising funds in aid of cancer treatment. The new project is seeing walkers who began their journey at Point Pedro on 6 October walking to Dondra Head in order to raise funds for a new seven-storey building for the Karapitiya Hospital.

NDB, as one of the Silver Sponsors of this worthy initiative, has encouraged its employees to actively volunteer and as a result is seeing keen participating amongst its staff.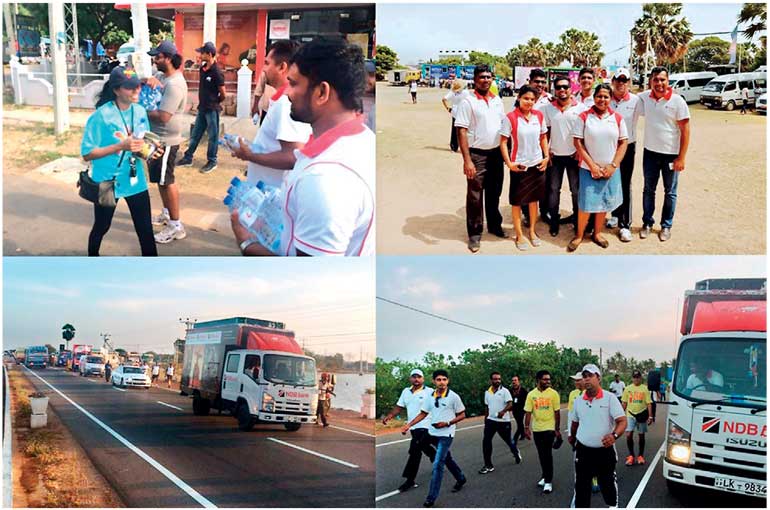 "I take part in this initiative as a dedication to the treasured memory of my father, who lost his battle against cancer, and as an effort to give hope to those who are fighting against this disease," NDB employee Nishan Perera.

"It is great that NDB is taking part in this worthy cause. I recall the mental and physical agony my father went through as a victim of this dreadful disease. I am happy to join with the rest to help eradicate this disease," said NDB's Anoma Magodaratne.

NDB CEO Rejendra Theagarajah is also taking part in Trail 2016. NDB understands the importance of inculcating responsible behaviour in the bank's employees and hence staff volunteerism is a key component in the bank's sustainability agenda. The bank believes that it is the responsibility of corporate entities to take a holistic approach to business operations concentrating not only on economic success but also social prosperity, ensuring that we help build a healthy nation. NDB Employee Volunteerism is carried out amidst the day-to-day work responsibilities of employees and bears witness to the dedication of NDB's employees towards making positive changes in society thus contributing to the bank's broader sustainability efforts.

NDB remains dedicated to bringing its customers one step closer to accomplishing their lifelong ambitions and uplifting their standards of living through a range of services that are accessible through its growing branch network.

Further details on NDB's many products can be obtained from its 24-hour call centre by dialling 0112448888 or by visiting NDB's website www.ndbbank.com.