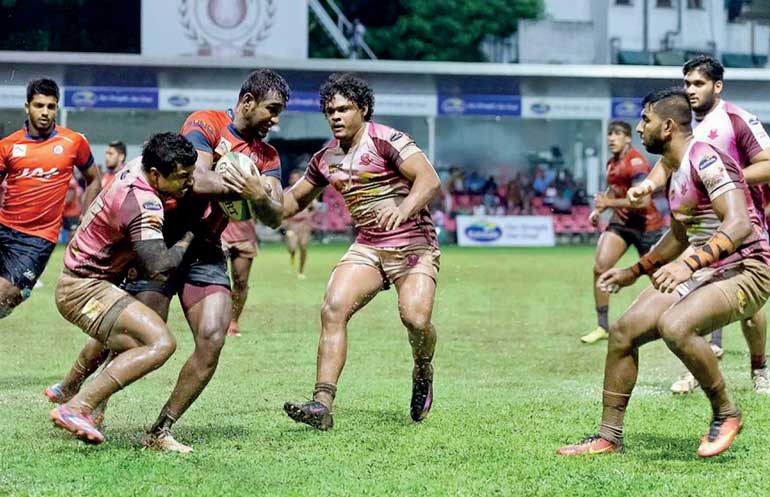 As always the game between Havies and CR produced a close encounter with Havelocks working hard to prevail
By Shamseer Jaleel

Navy continued their winning form in the inter-club league when they outclassed last placed CH&FC 55-3 at Welisara yesterday.

At halftime the sailors led 33-3. After a silent second half, Navy cut loose in the last 15 minutes to rack up four more tries to go past the half-century mark. The sailors, who already beat Police and CR&FC, look a top three team.

Havelock continued their unbeaten run in the inter-club league when they edged out their traditional rivals CR&FC 10-6 at Havelock Park over the previous weekend.

The game was played under tough conditions due to the heavy rain and both sides struggled to play open rugby. CR, who played well in the early part of the game, scored through a penalty from their reliable fullback Reza Mubarak.

Havelocks hit back through their in-form forward Prasad Madushanka, scoring their only try through a forwards rush. Dulaj Perera added the extra two points. Havelocks went ahead further through a Perera penalty. Mubarak was on target in the fourth quarter with a penalty kick. In the last 10 minutes of the game Havelocks defended well with some superb covert tackles by Sudharshana Muthuthanthri, Madushanka and Sharo Fernando who played their hearts out to keep the red shirts from scoring. Omalka Gunaratne, Shashan Mohamed and Kavindu Perera had an outstanding game for CR.