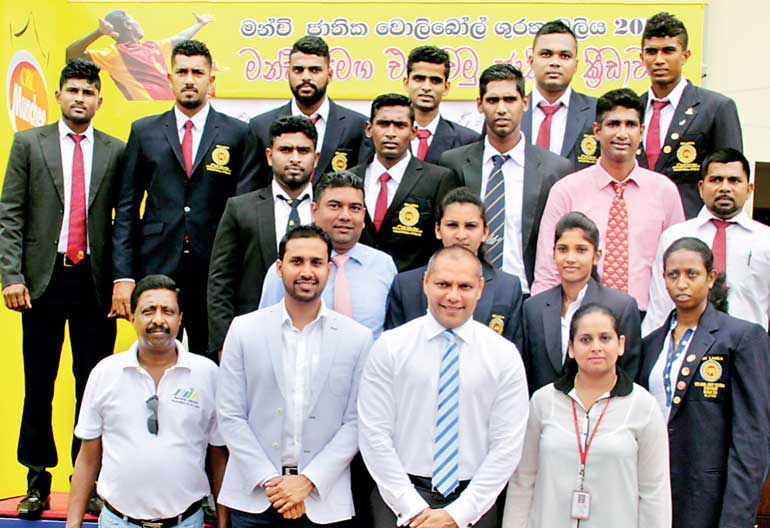 Sports Minister Dayasiri Jayasekera poses for a photograph with members of the national volleyball team of Sri Lanka and the senior management of the manufacturers of Munchee, Ceylon Biscuits Ltd.
An island-wide campaign to get 1,000,000 signatures in support of volleyball was launched recently under the patronage of the Sports Minister Dayasiri Jayasekera at the National Youth Services Council Complex.

It was conducted in conjunction with the Munchee National Volleyball Championships. The sponsorship by Munchee, the flagship brand of Ceylon Biscuits Ltd, of the National Volleyball Championship conducted by the Sri Lanka Volleyball Federation is now in its ninth year. A unique feature of this year's championship is that 4,600 teams are participating in the competition at the primary level creating a Sri Lanka record for the highest ever team participation.

The competition was conducted in the men's and women's categories in four stages in two separate Novices and Super League sections. The finals were held at the indoor sports stadium of the National Youth Services Council in Maharagama. All the vehicles which have travelled to the far corners of the country to obtain one million signatures in support of volleyball were present at the occasion.

Speaking at the occasion, Jayasekera said: "As a local brand that gives immense support to national sports, Munchee has organised this special program to give new life and strength to our national sport, volleyball. It is praiseworthy that this competition is being held with the participation of teams consisting of the novices in Sri Lanka especially at a time we celebrate the centenary of the introduction of volleyball to this country and when the game is being developed and popularised."

The Minister added: "There are many children who excelled in volleyball in the rural areas. We need a program to nurture them in the game. This will be a good opportunity to strengthen and develop the children who step forward from here with the Sri Lanka Volleyball Federation. I extend my heartfelt thanks to Munchee for the support, strength and sponsorship that they have given us for this purpose."

President of the Sri Lanka Volleyball Federation and the National Youth Services Council and Director General of Youth Services in Sri Lanka, Attorney-at-Law W.G.S. Erandika, addressing those present, said: "We convey our thanks to Munchee for their sponsorship which has enabled us to have such a massive volleyball championship. As a national industry their aim is to serve the people of this country rather than increase their profits. There are only a few such organisations that think of the country and its youth in this manner. That is why they have stepped forward to give their full support to volleyball which is our national sport. For us it is a great honour and blessing and a matter of pride. Therefore we thank them on behalf of all those who love the sport of volleyball."

The Ceylon Biscuits Ltd. Group General Manager (Marketing) Theja Peiris during her speech said: "We have been sponsoring the Munchee National Volleyball Championship since 2006. At that time many thought Sri Lanka's national sport was cricket. We therefore had a major challenge to show that Sri Lanka's national sport was not cricket but volleyball. It was with that challenge that we began our association to give volleyball its due place. We have a policy that if we associate ourselves as a corporate entity, we should discharge our obligations properly. That is why we have been successful in coming this far from 2006."

"With the Munchee association it has been possible to take volleyball in Sri Lanka to a new dimension. This is the only competition which covers the entire country. As a local company we think of our country. It is by no mean an easy task to sponsor a volleyball competition. Although it is not apparent, it is very costly in terms of money and time. However, we as a Sri Lankan company are sponsoring this with the aim of being of service to our children, our youth, our society and our country. It is our vision to contribute to produce sportsmen and women who can compete at the national level. "

Men and women of Sri Lanka's national volleyball team and their coaches, members of the Sri Lanka Volleyball Referees Association and members of all participating teams and their coaches were among the large gathering present at the occasion.