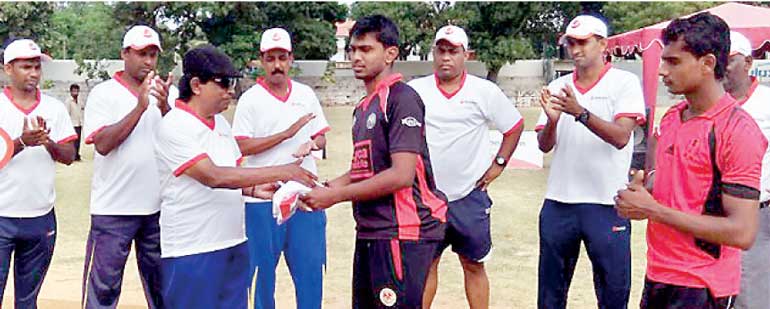 Winners of 'MoneyGram Bowling Challenge' Jaffna edition, Mahalingam Nilojan and Perinparajah Brinthapan, receiving their awards from B.S. Perera
The global provider of innovative money transfer and payment services, MoneyGram, has been named an official sponsor of the upcoming 2016 ICC World Twenty20 Tournament, and in line with this, has launched the 'MoneyGram Bowling Challenge' – an exciting competition that will give Sri Lankan cricket fans a chance to win tickets to the T20 matches.

The competition, which commenced on 20 February, is an island-wide initiative to find Sri Lanka's 'Fastest Bowler', both male and female. Open to all Sri Lankan cricketing fans, irrespective of age and gender, the competition is conducted via a series of full-day regional camps, at the end of which the one all-island winners (male or female) will win a tour to India to watch a T20 cricket match.

"At MoneyGram we constantly try to 'bring people closer' and there is no better platform than the game which connects people across the world. We are pleased to announce the bowling challenge to leverage our association with cricket and an opportunity to bring fans closer to the coveted World Twenty20 experience in Sri Lanka," stated MoneyGram's Senior Regional Director for South Asia and GCC, Kaushik Roy.

This one-of-a-kind competition is organised with the assistance of national coaches, officials and staff, and is carried out at international cricket stadiums across the country.

The MoneyGram Bowling Challenge officially kicked off at St. Anthony's ground in Jaffna and will be followed by competitions in Dambulla, Kandy, Colombo and finally Galle.

MoneyGram International recently announced it has agreed to continue its sponsorship of the International Cricket Council (ICC) tournaments for an additional eight years, through the year 2023. The new agreement marks an extension of MoneyGram's initial five-year relationship with the ICC that included sponsorship of the 2011 and 2015 World Cup tournaments.

MoneyGram is a global provider of innovative money transfer and payment services and is recognized worldwide as a financial connection to friends and family. Whether online, or through a mobile device, at a kiosk or in a local store, it connects consumers any way that is convenient for them. MoneyGram also provides bill payment services, issue money orders and process official checks in select markets.