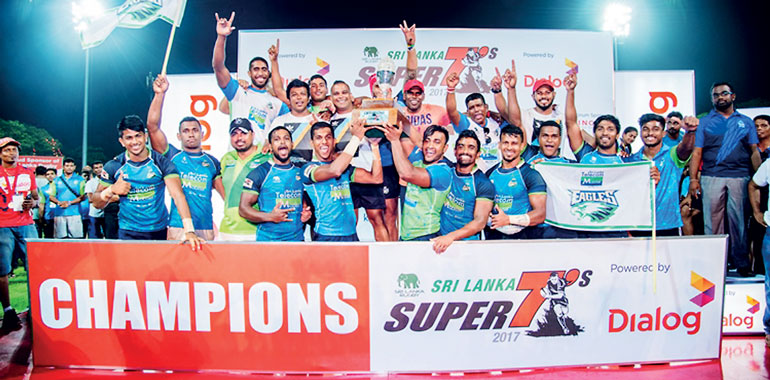 The Mobitel Eagles powered their way to the top at the highly anticipated 2017 Sri Lanka Rugby Super 7's with a breathless start and spectacular finish.

The competition, which took place on 15 and 16 July at the Race Course International Rugby Grounds, saw the Mobitel Eagles successfully defended their 2016 Sri Lanka Rugby Super 7's title, bolstered by solid support from Mobitel.

The Mobitel Eagles earned their slot in a second successive final and emerged overall winners of the Rugby Super 7's. The Mobitel Eagles demonstrated power, agility and tactical skills in fending off rival teams and registering their superiority in the 2017 edition of the tournament just as they did in 2016.

The Mobitel Eagles were the unbeaten champions of the first leg of the Rugby 7s held at the Niththawela Grounds in Kandy on 8 and 9 July 2017. They carried forward a total of 30 points, which contributed to the team being the champions of the Rugby Super 7s with an overall total of 55 points.

Lifting the Sri Lanka Rugby Super 7's trophy triumphantly amidst cheers, the victorious Mobitel Eagles team consisted of Roshan Weeraratne (C), Anurudha Wilwara, Lee Kegal, Thilina Wijesinghe, Wajid Fowmy, Mohamed Absal, Promod Pathmasanka, Sharo Fernando, Prasantha Jayathunga, Mushin Falil, Chamod Fernando, Chathura Seneviratne and international players Martin Losefo, Joseva Naya Cavou, Jone Nasalo Marawa and Joseva Green Bilo.