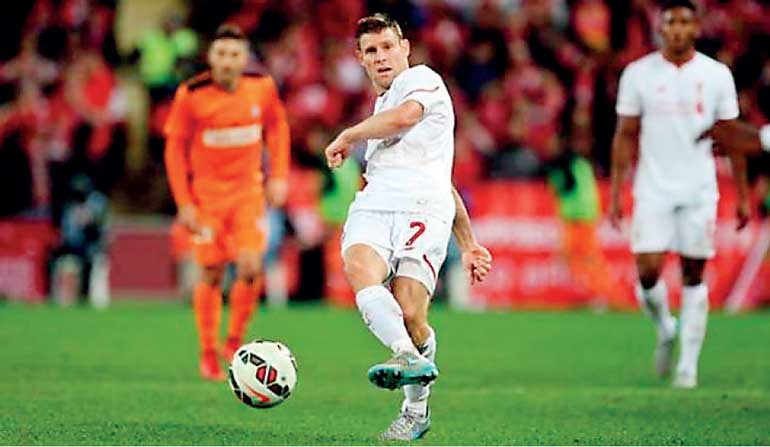 Liverpool's James Milner in action at the Brisbane Roar v Liverpool in pre season friendly - Suncorp Stadium, Brisbane, Australia yesterday.
Liverpool boss Brendan Rodgers hailed James Milner as a "class act" after the England midfielder scored the winner on his first start for the Premier League club in a 2-1 friendly win over Brisbane Roar on Friday.

The 29-year-old, who moved to Anfield on a free transfer from Manchester City at the start of the month, found the net 15 minutes from time to help his new club come from behind for a second win on their pre-season tour of Asia and Australia.

Milner, playing in the more central role he covets, also provided the cross for Adam Lallana's 27th minute equaliser in a fine performance that had his manager purring.

"James Milner's a class act," he told reporters. "We had to work very hard to get him in but I think we'll see over the course of the season how important he is for us.

"He's a wonderful personality and a top class footballer. When you see him play in his favourite position, you see all these qualities come out."

Liverpool might have thought themselves at home when the crowd of around 50,000 at Lang Park gave a stirring pre-match rendition of "You'll Never Walk Alone" on a chilly evening more typical of Merseyside than tropical Queensland.

Brisbane, Australian champions for three of the last five seasons, were not about to play stooges, however, and opened the scoring in the 17th minute when Dimitri Petratos drilled the ball into the net from the edge of the box.

Lallana showed good skill to find room for the equaliser with a curling shot 10 minutes later and Milner matched it to break the deadlock.

Taking the ball on the edge of the penalty area, he nutmegged one defender before looping his shot over the legs of a couple more to beat Brisbane goalkeeper Jamie Young.