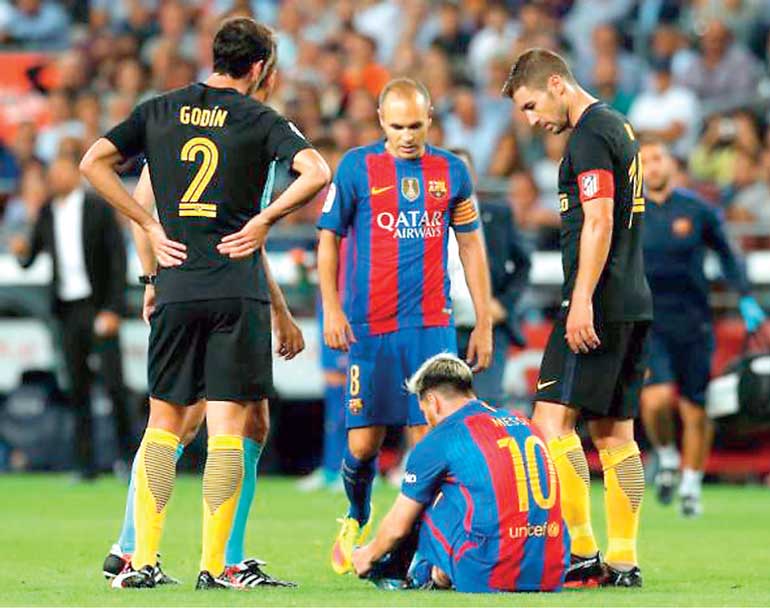 Barcelona's Lionel Messi sits on the pitch injured – Reuters
REUTERS: Barcelona failed to capitalise on Real Madrid dropping points against Villarreal as the La Liga champions were held to a 1-1 draw at home to Atletico Madrid on Wednesday, while talisman Lionel Messi limped off with a groin injury.

Ivan Rakitic nodded Barca ahead in the 41st minute but the home side lost control after the break following an injury to midfield lynchpin Sergio Busquets and Angel Correa fired in the equaliser in the 61st, shortly after Messi had come off.

"Leo Messi has torn the groin muscle in his right leg. He will be out of action for approximately three weeks," Barcelona officials said in a statement.

Earlier on Wednesday, Real's 100 percent start to the season came to an end as they drew 1-1 at home to Villarreal, which also halted their joint record run of 16 successive league wins.

Real remain top of La Liga on 13 points. Sevilla are second on 11 points, Barcelona third on nine points while Atletico are fourth, on eight points.

Barca had plenty of possession in the first half but Atletico, who knocked them out of the Champions League last season, forced them into tight spaces and constricted their ability to create openings.

"We knew it wasn't going to be an easy game and we'd be attacking a team that sat back and worked hard. They gave us no space and made everything more complicated," Luis Enrique told a news conference.

Messi was denied by Jan Oblak in one of few chances in a tight first half but Rakitic broke free of Atletico's clutches to put Barca in front.

The champions did not kick on after the break, rocked by an exhausted Busquets being taken off and then Messi limping off.

A lapse of concentration from Barca defenders Javier Mascherano and Gerard Pique allowed Atletico substitute Correa to latch onto a through ball from Fernando Torres and fire in off the post.

Barca had 29 minutes to find a winner without Messi, and despite chances for Pique and Neymar, Atletico held firm.

Barca striker Luis Suarez, meanwhile, had fierce words for Atletico defender Filipe Luis, who uploaded a picture onto Instagram of his bloodied foot bearing stud marks from a clash with Suarez.

"Football is for men and what happened on the pitch stays on the pitch," Suarez told reporters.

"If every time someone got hit it was uploaded to Instagram this would turn into a circus. I'm not going to be sending photos out after every game."

Earlier, Cristiano Ronaldo spurned two early chances in a lacklustre first half by Real, who allowed Villarreal opportunities at the other end.

Villareal captain Bruno Soriano gave his side the lead on the stroke of halftime with a boldly chipped penalty after Sergio Ramos had handled in the area, although the Real captain made amends by equalising in the 48th minute.

"We were the much better side in the second half but you can't always win every game in the last minute," said Real Manager Zinedine Zidane.