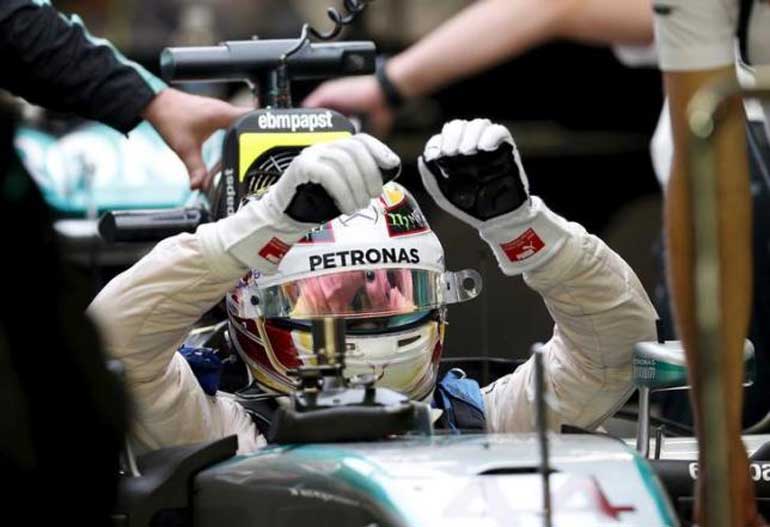 Mercedes Formula One driver Lewis Hamilton of Britain retires from the Singapore F1 Grand Prix night race in Singapore September 20, 2015.
Mercedes go into Sunday's Japanese Grand Prix hoping to show that their baffling lack of pace in Singapore was just a one-off but Lewis Hamilton and team mate NicoRosberg need some convincing.

"I don't have any confidence. I don't have any information to give me that confidence," world champion Hamilton told British reporters when asked how confident he was that Suzuka would be different.

"I'm hoping it's a one-off but it was a strange weekend to say the least.

"Our car has not got slower. I think some other people might have brought an upgrade package... but that doesn't explain it," added the Briton.

Eclipsed in qualifying after 11 poles in 12 races, Hamilton suffered his first retirement of the season in Singapore and saw his lead over Rosberg cut to 41 points with six rounds remaining.

On a tight and twisty circuit, the previously dominant Mercedes was a second and a half slower than Sebastian Vettel's winning Ferrari.

The heat and slow nature of the track may have played to rivals' strengths, but there will be worried faces among the championship leaders until at least Friday practice at Suzuka and possibly beyond.

The Japanese circuit is both fast and demanding, with the flat-out 130R curve a stand-out feature, and should be much more to Mercedes' liking. If Ferrari are quicker there too, then the fight is really on.

"To be so far off the pace all of a sudden, to not understand it, that's really bad because then how are you going to improve it?," asked Rosberg, who finished fourth, after Sunday's race.

"You just hope that at the next track it's going to come towards us again. The chances are extremely good, because at all other tracks we've been so fast, but who knows?"

Red Bull principal Christian Horner, whose team have been rebuffed by Mercedes in their quest for a new engine partner, expected to see the champions pick up speed but hoped a different scenario might evolve.

Senna mark

"It's quite confusing to see them so far off but maybe some of the new changes that have been introduced tyre-wise may have had an effect, who knows?," he said. "I'm sure we'll see maybe business as usual next weekend.

"If it's not, then it's obviously something that's been introduced that's affecting their performance."

Singapore was Hamilton's chance to equal the 41 wins of his late hero AyrtonSenna and he has every chance of doing that on Sunday, even if from one more start than the great Brazilian triple champion.

In other respects, he and Mercedes will be starting over after falling just short of the all-time records for most individual and team pole positions in a row.

But the Briton, winner of seven races this season and still firmly on course for a third title, can consider himself fortunate.

"The car broke down... and I didn't lose a huge amount of points to the guy who's right behind me. It could have been a lot worse, so I'm looking at the glass half-full," said Hamilton.

The Suzuka weekend will be a tough homecoming for Honda, whose return as engine partners to McLaren has been painfully uncompetitive, even if Jenson Button and Fernando Alonso can count on plenty of local support.

The race could also be a farewell from Button, a winner at Suzuka in 2011, to his Japanese fans if speculation that he is set to quit the sport at the end of the season are accurate.

It will also be emotionally charged for the entire paddock, returning one year on from the late Jules Bianchi's horrific accident.