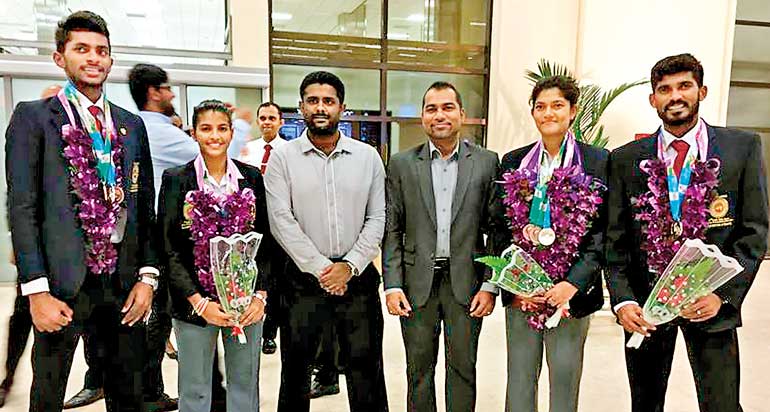 On Sunday 21 February many of Sri Lanka's valiant sports men and women who competed in the 2016 South Asian Games held in Guwahati and Shillong, India returned to the country.

From the many athletes returning from the 12th South Asian Games stood the triumphant Brand Ambassadors of McLarens Holdings Ltd., who were among the proud few who represented Sri Lanka in the Badminton events.

After many intense and strenuous matches against the best competitors from the Asian region, the McLarens Brand Ambassadors to the South Asian Games emerged as victors in their respective events and returned to Sri Lanka with multiple accolades.

Amongst the returning medalists were four of McLarens' brightest stars in the badminton arena. For the Men's events, Tissera Nimmika and Sachin Dias brought home the Silver Medal for the team event with Sachin winning a further two Bronze Medals in the Men's doubles and individual events. Furthermore, for the Women's events, Achini Rathnasiri and Thilini Hendehewa also secured the Silver for the team event while Achini went on to win a further two Bronze Medals for her efforts in the Women's doubles and the mixed events.

McLarens Holdings has been a long time partner of many athletes in the Badminton arena, sponsoring other national players such as Niluka Karunarathne (Olympic star), Ilmie De Silva, Dahanayake, Udara Nayanajith, Omal and Amali Amarasekara as a part of McLarens Holdings pledge to supporting the sport.

The victories and achievements of these remarkable athletes have brought great honour and pride to Sri Lanka and McLarens Holdings and they serve as role models to aspiring sports men and women. McLarens Holdings looks forward to their future successes and endeavours.