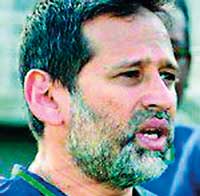 By Shamzeer Jaleel

Former Trinity rugby "Lion," Kandy SC crack winger and Sri Lanka sevens and fifteen player Inthisam Marrikar will be appointed as the High Performance Director of the Sri Lanka Rugby Football Union (SLRFU) in the near future.

Speaking to Daily FT, Secretary of the SLRFU Nazeem Moahmed said, "We are very happy to announce the appointment of Inthisam Marrikar who has got a great track record in rugby in the country. He will work very closely with the SLRFU. Imthi who took CR & FC from number 6 to number 3 and almost beat Kandy three times this season is being recognised by the governing body. One of the top knowledgeable coaches, Imthi will take Sri Lankan sevens rugby to the next level. That is our hope," said Nazeem.

Speaking further, Nazeem said, "We will be getting down Matt Turner who will not only look after the senior sevens team but also have an eagle eye on the junior sevens team in Under 16, Under 18 and Under 20. We will tour for the Asian sevens in Under 20 to Malaysia and Hong Kong. The way forward for us in Asian rugby is the shorter version of the game," he added. He wrapped up by saying the SLRFU will have three Inter club Sevens tournaments this year and the national Sevens team to Monaco will be named early next week.