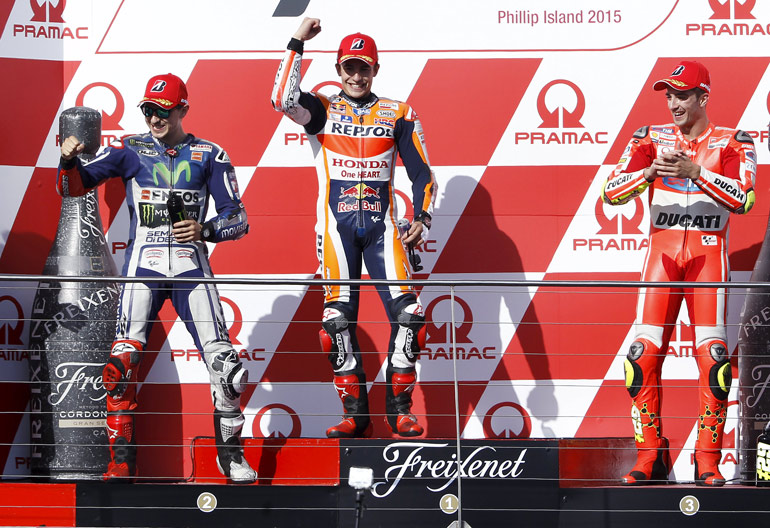 Honda MotoGP rider Marc Marquez of Spain (centre) celebrates after winning the Australian Grand Prix on Phillip Island, 18 October. Yamaha MotoGP rider Jorge Lorenzo (left) of Spain finished in second place and Ducati Moto GP Rider Andrea Iannone (right) of Italy finished third – Reuters
AFP: Spanish Repsol Honda rider Marc Marquez slipped past Jorge Lorenzo on the final lap to win a thrilling Australian MotoGP as the race for the world championship tightened at Phillip Island on Sunday.

Defending world champion Marquez, coming off the pole, pipped his fellow Spaniard by 0.249 seconds for his fifth win of the season, with Italian Ducati rider Andrea Iannone third.

Valentino Rossi finished fourth and had his world championship lead cut to 11 points over his Movistar Yamaha teammate Lorenzo with two races left at Malaysia's Sepang and Valencia.

Lorenzo had looked as if he would hold on to win. But Marquez swept beneath him on turn 10 and went on to win his first premier-class race at Phillip Island.

Last year Marquez crashed out on the 19th lap while leading off the pole. In the 2013 race he was disqualified after ignoring a mandatory pit stop in the middle stages of the race.

Marquez said he had felt "really strong" during the race but there was plenty of passing involving himself, Rossi and Iannone, and Lorenzo capitalised by opening up a gap.

"Andrea and Valentino overtook me and then the last lap I pushed 100%. I didn't expect to get to Jorge but really happy for the win. We worked really hard and the results weren't coming but this result is really nice for us."

The top four riders staged an exhilarating tussle, with wheel-on-wheel passing manoeuvres on the sweeping turns thrilling the 32,000-strong Phillip Island crowd in one of the best races in recent years.

Just a second separated the four as they swept across the finish line.

Rossi, 36, the seven-time world champion in the premier class, battled to the end in his record-equalling 328th GP to make his 16th podium on his 19th trip to Australia. But the Italian legend was edged out by the greater speed on the straight of Iannone's Ducati.

It was 22-year-old Marquez's 24th MotoGP win in his 52nd start. But he cannot defend his world title this year as he trails Rossi by 74 points with just two races left in the season.

Marquez finished in fourth place at Motegi last weekend despite riding with a broken left hand. He showed the benefit of the extra week's recovery to get home at Phillip Island, one of only two tracks on the circuit where he had not previously won in the premier class.

Iannone, who claimed his third podium of the year and first since Mugello, had an eventful race, dicing with Marquez and Rossi throughout the 27 laps after being hit on his race helmet by a stray seagull on the second lap.

Marquez's Repsol Honda teammate Dani Pedrosa was fifth with young Spanish Suzuki rider Maverick Vinales sixth.

The race for the world championship between Rossi and Lorenzo goes down to the final two races in Malaysia and Spain.