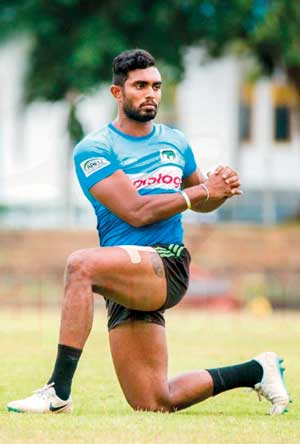 By Shamseer Jaleel

The Sri Lankan men's Sevens rugby team will be under pressure to perform well at the Asian Sevens 2016 third leg in Colombo on October 15 as expectations for the side, led by Dhanushka Ranjan, will be high following their strong outings in the competition's previous legs.

However, the team will be without the services of Fazil Marija, who is yet to recover from his slip disc injury but former Sevens skipper Sudharshan Muthuthanthri is likely to return to the squad. The team's training will commence this evening.

The outfit, which is sporting several young players since their senior teammates were ruled out due to injuries, performed remarkably well in the first leg in Hong Kong, finishing second to the hosts and that too due to a refereeing blunder which caused Sri Lanka to miss out on the final. The second leg saw three experienced players in the Sevens circuit - Srinath Sooriyabandara, Richard Dharmapala and Kanchana Ramanayake - returning to the squad in South Korea. Once again Sri Lanka performed well but in the final they lost out to Hong Kong, who came out with more venom.

With the third leg coming up in Colombo in little less than two weeks, the team is putting in a lot of preparation. The men's outfit will need to win the third leg while also hoping that Hong Kong does not finish better any better than fourth in this leg. If this happens, which is realistically near impossible, then Sri Lanka will be crowned series champions.

"We are playing in Colombo and once again our group favours us. We will not take any sides lightly. Our main aim is to win it in front of our home crowd at racecourse grounds. We want to win all our three group matches and end up on top. We have China, Taipei and Singapore. China will be the toughest out of the three teams. We are likely to meet either South Korea or Hong Kong in the semifinals. We have beaten South Korea in Korea and almost beat Hong Kong in Hong Kong so nothing is impossible. Muthuthanthri is also likely to make a comeback in this leg, which is a major advantage with his experience in Sevens rugby. We will start training today and the side will be selected within one week, giving time for the squad to be together one week before the tournament kicks off on 15 October," Sri Lanka skipper Dhanushka Ranjan said.

The Sri Lankan men's team will play Taipei (1.12 p.m.), Singapore (4.08 p.m.) and China (7.04 p.m.) while the women's unit will face stiff opposition from Hong Kong (12.06 p.m.), China (2.40 p.m.) and Singapore (5.58 p.m.) on the opening day and move on to the second round. The women's team will need to finish in the top 7 to avoid being relegated from next year's tournament.