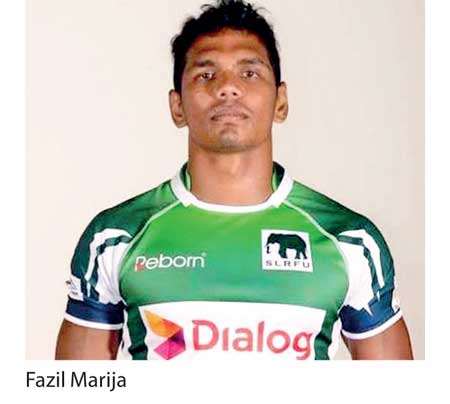 By Shamseer Jaleel

Former Kingswoodian, Kandy SC and Asian famed fly half, Fazil Marija will represent Sri Lanka at the Asian Rugby Championship Division I in Malaysia next month which will be his last tournament at national level. He represented Sri Lanka for the Past 14 years making his debut as a schoolboy against the visiting Hong Kong outfit at Nittawela Rugby Stadium in 2002/2003.

Fazil led his side to double league and knock out wins for his alma mater, Randles Hills School, and in the early 2000s led the National outfit in both forms of the game. Marija led Sri Lanka at both forms of the game after representing for more than a decade.

Having represented the Kandy Sports Club all throughout his club career, Marija will go down in history to be one of the most acclaimed rugby players in the country, winning over 10 league titles and many more. He is also the only captain to win the Triple Crown which is the league, sevens and knockouts on two consecutive occasions.

Marija comes from a sport family background with his cousins Ronny Ibrahim, Nilfer Ibrahim, Anju Buksh and Anjad Buksh all representing the country. So for Fazil coming into rugby was like a duck taking to water. He will play his final season for the double champions, Kandy Sports Club in 2017/2018 before retiring from the game. He is likely to take up coaching and at present he is qualified at Level 2.