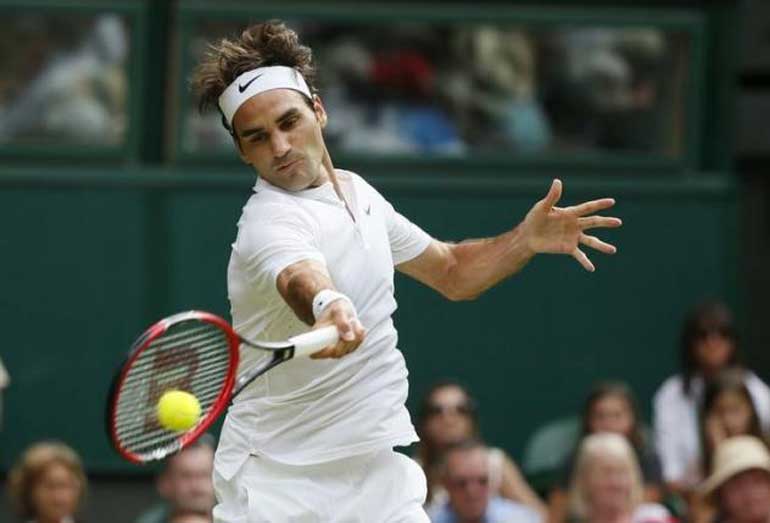 Roger Federer of Switzerland hits a shot during his match against Sam Querrey of the USA at the Wimbledon Tennis Championships in London, 2 July
Reuters: It was not the first time Wimbledon had dissolved into a chorus 'oohs' and 'aahs' at the brilliance of Roger Federer but the Swiss ringmaster almost outdid himself when he flashed his racquet between his legs to lob Sam Querrey on Thursday.

That individual moment of magic came midway through the second set of a 6-4 6-2 6-2 second-round victory and summed up an effortlessly brilliant demolition job from Federer, whose bid for an eighth Wimbledon title took an impressive step forwards. To Querrey's credit he made a fight of the early stages, before mentally ceding the contest as Federer took control.

"You want to go over and give him a high five sometimes, but you can't do that," a bewildered Querrey told reporters.

While not given the greatest test, Federer took the chance to rehearse his repertoire of stunning groundstrokes, breaking for a 5-4 lead with a scorching backhand crosscourt pass.

Having clinched the first set, he stepped on the gas, immediately breaking again at the start of the second before bringing out the party piece while leading 4-2.

With Querrey a fraction under two metres tall, any sort of successful lob would have been impressive.

Federer, however, was on the run when Querrey's mis-hit putaway allowed him a split second to re-adjust and flick his racquet through his legs, and he arced the ball back over the American's head and sending him scrambling back to the baseline.

Querrey referred to Federer's 'aura' and perhaps befitting the supernatural adjective, the Swiss described the congested thought processes of that split second before he attempted the shot.

"I guess so many things shoot through your mind like, what's the score? Love‑30, I wouldn't have hit a shot like that, no chance.

"I probably would have adjusted, changed my grip and tried to hit a normal forehand or gone around and hit a normal backhand...

"But then I was like I feel better almost shuffling my feet and giving myself, with the right grip, without changing that anymore, to hitting a lob. "Easiest way for me was somehow through the legs rather than coming to a complete standstill and then hitting a lob, which he would have seen where it was going to go."

That was effectively that. Federer broke twice in the second and third sets and finished off the contest in an hour and 21 minutes to set up a clash with Australia's Sam Groth.